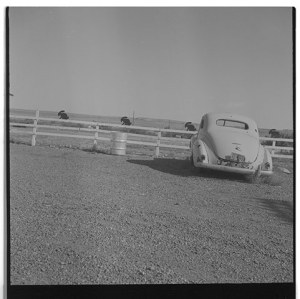 Ed Ruscha is among the photographers whom The Guardian included in a series in which renowned photographers point to the 'worst shot' of their career. Of all the photographs included, we found Pop artist Ed Ruscha's rejected photo from his iconic series Twentysix Gasoline Stations, and his reasons for rejecting it, particularly charming.Published just shy of 50 years ago, in April, 1963, Twentysix Gasoline Stations was the first book by the American Pop artist and is widely considered the first artist's book and a model for other artists in what would become a boom in artist book culture. The book, published by Mr. Ruscha's own imprint, National Excelsior Press, shows images of 26 gas stations across the country all along Route 66 that Mr. Ruscha would travel when visiting his parents in Oklahoma City from his hometown of Los Angeles.
He called his book—which had no text save for captions that listed the location and the brand of gas station—a "collection of 'facts," and "readymades." Mr. Ruscha also intended for the book to enter the mass market cheaply like any other commodity. Originally priced at $3.50, when it first appeared, a second edition of the book now sells on eBay for $1,800. The project itself was also notable in that the artist conceived of the idea and worked out the typography and design before taking any pictures. He then shot roughly 60 images, and chose the final 26 from that pool. Despite all of this planning, it's humorous to hear the artist speak about a photo not making the cut because it was "too perfect with its phony Americana."
Here's Mr. Ruscha's explanation in full:
I found this car on the old Route 66 in a desolate area of Arizona. The picture has all the traits of a well-rounded photograph: there are the jack rabbits on the fence, which make it look as if there is movement; the car that's really dead, including the tumbleweed and the beat-up old licence plate; the sky is totally non-committal; the horizon is mute. In a photography class, people would discuss how these different elements have come together. It possesses all the signifiers – and that's the reason it fails. I feel like it's my worst photograph. It's too perfect with its phony Americana. I have never used it for anything. But at the same time I'm wondering if that car is still there, rusting away.