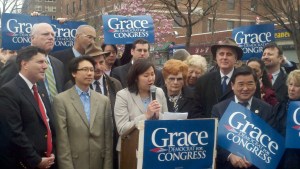 EMILY's List, a prominent political action committee that aims elect pro-choice Democratic female candidates, has gotten behind Assemblywoman Grace Meng's bid for Congress in Queens even though there's another pro-choice Democratic female candidate in the race, Councilwoman Liz Crowley.
"Grace Meng is not just a strong candidate, she's exactly the kind of fierce advocate for women and families that we need in Washington right now," Stephanie Schriock, the organization's president, said in a statement this morning. "Grace is a true progressive who will stand up to the radical Republican agenda and get things done in Congress."
She added, "Grace is a true champion for New York, breaking through glass ceilings in so many ways, and the EMILY's List community is thrilled to support her throughout her campaign."
All three Democratic candidates in the race, Ms. Meng, Ms. Crowley, and Assemblyman Rory Lancman, appear to believe that women's rights is a winning issue for the eventual general election. After Republican Councilman Dan Halloran announced his campaign yesterday, they fired off press releases that all mentioned women's rights or attacks on women's access to health care.
Furthermore, both Ms. Meng's and Ms. Crowley's campaigns are aiming to make this election one for the history books; their announcements stressed the importance of getting the first women elected to Congress from Queens since Geraldine Ferraro.