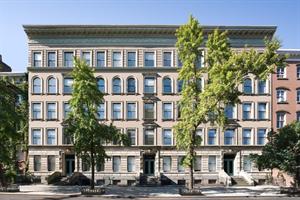 There's no place in Manhattan that someone wouldn't live, it seems. Without formal advertising, over 650 potential buyers inquired about the church-converted condominium in Chelsea, the Wall Street Journal reports.
This isn't any old church though.
The Brodsky Organization has been hard at work on its fancy acronym-named 422W20 (422 West 20th Street) project that is transforming the former dormitories into one- through three-bedroom apartments in the 194-year old General Theological Seminary:
Units are small with few frills, but many feature picturesque views of the seminary grounds or overlook leafy neighborhood backyards. Residents will also have access to the Close, a block-long enclosed garden across the street, during daylight hours.
One bedroom apartments will be starting at $640,000 dollars and the most expensive three-bedroom apartment will go for more than $2 million dollars. Corcoran Sunshine is heading the marketing and open houses, no Communion required.
James Lansill, a senior managing director at Corcoran Sunshine, told the Journal that the weekend open house is a gamble, but "it's a very lucky moment. People have gotten over being worried about things." He further noted that "more affordable condo inventory in Chelsea is hard to come by."
That's taking one less step than NYU did in leaving the facade of the church as it built on its property.
mewing@observer.com