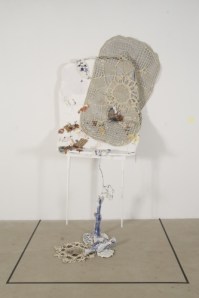 An eagle-eyed tipster just sent over a job listing for an "Artist/Ceramist" on the New York Foundation for the Art's website that was posted by the studio of artist Angel Otero, who is based in Ridgewood, Queens, and shows at Lehmann Maupin in New York.
Mr. Otero, it seems, is looking for a ceramicist to help "develop a series of new material explorations." Which sounds like a pretty great, fun job.
If you're interested and meet the requirements (note: "Access to a large scale kiln is preferred."), you can drop Mr. Otero's studio an email. The information is in the post.
Those who prefer to view art rather than make it can find Mr. Otero's work right now in the Queens Internatioanl at the Queens Museum of Art or in Istanbul, for one more day, at Istanbul '74, in a show presented by Lehmann Maupin.