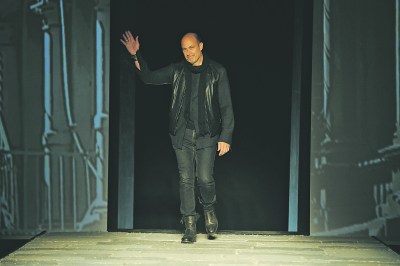 With many of New York's techiest residents at the annual South by Southwest conference in Austin this week, the city seems to be finally stepping out of its dark apartment, blinking its eyes and seeing its own shadow for the first time in months. Sure, it may be a function of Daylight Saving Time, which seems as if has given us an extra hour to stare at the sun (always a fun pastime). But it's more than that. It's finally spring again.
So what does that mean for us? (Aside from the obvious fact that we'll finally be able to see the fifth season of Mad Men?) Well, we can finally break out those new summer ensembles. Maybe this season it'll be Diane von Furstenberg or John Varvatos. Both designers have spent the past week in the spotlight of charitable causes (and we're not talking about Jessica Simpson's Fashion Star). Last Friday, the third annual Diane von Furstenberg Awards were held at the United Nation during its 72-hours of International Women's Day conferences. (Giving new, if egregiously inaccurate, meaning to the word "day.") Ms. von Furstenberg and her husband, Barry Diller, have set up a foundation to give $50,000 a year to the charities of five recipients who have "demonstrated leadership, strength, and courage in their respective fields." This year, the honorees included Chouchou Namegabe of Vital Voices, Rio street artist Panmela Castro, Jaycee Dugard, Tahirih Justice Center's Layli Miller-Muro and Oprah. Oprah!!! On hand for the event was Tina Brown (whose Newsweek/Daily Beast entity cosponsored the awards), Diane Sawyer, Fran Lebowitz and Jessica Alba. Because if there's one person out there who really, really understands "atrocities," it's Ms. Alba, whose performance in The Love Guru could easily be defined as such.
On the opposite coast, Mr. Varvatos took time away from his busy reality-show schedule to raise $700,000 for his ninth annual Stuart House charity benefit to support the UCLA Rape Treatment Center program for children who have been sexually abused. With the support of celebs like Judd Apatow, Leslie Mann, Steven Tyler, Dave Matthews and Rachel Zoe, the menswear designer was able to break last year's record donations by $200K.
Everyone's just feeling very charitable this week, it seems. We assume it's the departure of our collective seasonal affective disorder and expect that we'll be cranky and stingy again as soon as the weather turns cold and dark. But for now: hello, spring!