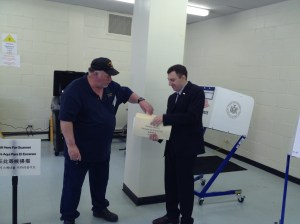 The absentee ballots in the tight special election between Democrat Lew Fidler and Republican David Storobin are being counted in Brooklyn today, likely deciding which individual will ultimately be headed to the New York State Senate when the process is finally over.
Before today, Mr. Storobin held onto a 119 vote lead in the race, but that total is changing by the moment, and both campaigns are projecting confidence.
"Keep hope alive! Our analysis still shows that when to battle is over, we will have prevailed. Let's hope that we get a good, efficient, transparent honest count of every vote validly cast…and soon," Mr. Fidler wrote on Facebook. "The people of the 27th District have been without representation for this legislative session for too long already!"
"There's a process that's going on right now. We're ahead on the count, that's a good position for us to be in. We'd rather be ahead than behind," David Simpson, a spokesman for Mr. Storobin told The Politicker this afternoon, additionally touting their campaign's "aggressive" absentee efforts before Election Day last week.
However, even after the absentee ballots are all counted, the process may not exactly be over. If the total margin by the leading candidate is below 0.5% of the votes cast (around 110 for this election), there will be an automatic hand recount of all of the twenty thousand ballots cast in the race.
And there's a reasonable possibility of lawsuits being filed as well, potentially extending the process even further.