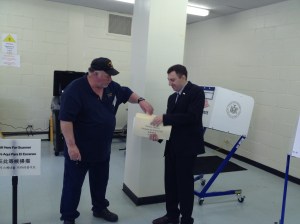 At this moment, Republican candidate David Storobin has a 119 vote lead over his Democratic opponent Lew Fidler in last Tuesday's State Senate special election in Brooklyn, up one vote from yesterday, according to a source following the proceedings.
Write-in votes are currently being tabulated, but New York law does not allow write-in votes to be cast for candidates actually on the ballot, and they will not impact the margin between the two candidates.
What will affect the tally are the absentee ballots, which will start being counted next Wednesday.
The campaigns will both get a hint as to what that absentee total will contain later this afternoon when they receive a list of names and addresses of individuals who voted absentee in the election. Those can be compared to campaign contacts lists and voter registration rolls, which should be able to provide a rough estimate as to where the count will ultimately be headed.
In addition to the 757 valid absentee ballots, there are hundreds more invalid absentee ballots, some of which are likely to be successfully contested by the two campaigns. Furthermore, provisional ballots, which are usually given to voters who mistakenly think they're registered or accidentally vote from outside of the district, are unlikely to significantly affect the vote, but every little bit matters at this point.
Once all of this is said and done, which may take a while depending on how many legal roadblocks are thrown in the way of the tallying process, the magic number both campaigns have in their heads is 110, or 0.05% of the 22,000 total votes cast. If Mr. Storobin's lead falls below that number when the absentee votes are finished, there will be an automatic hand recount of all of the ballots in the race.
Needless to say, if that automatic recount happens, it might be a little while longer before either candidate enters the chambers of the State Senate as a member of that body.