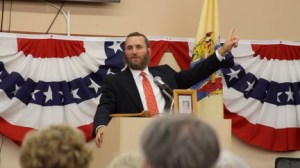 Rabbi Shmuley Boteach, the former spiritual guru to Michael Jackson, sexpert, and reality television show host who bills himself as "America's Rabbi" is running for Congress in New Jersey. According to the press release announcing Mr. Boteach's run for New Jersey's 9th District, his "historic campaign marks the first time a rabbi is running for Congress on the Republican ticket." Mr. Boteach promises to focus on "returning authentic American values to the forefront" while "de-emphasizing the cultural distractions that are deeply dividing the nation."
"We're seeing in our great nation are not caused by an economic downturn but by a values erosion. The values that have dominated the American political landscape for decades include an obsession with gay marriage and abortion," Mr. Boteach said on his website. "It's time to expand the values conversation and policy agenda."
The website for Mr. Boteach's campaign identifies school vouchers, promoting human rights and "American-democratic ideals" in "the world's most dangerous regions" and providing a tax deduction for marriage counseling as his core positions. Mr. Boteach said his marriage counseling initiative is the start of his push to restore American values.
"Let's begin with really saving the institution of marriage by focusing squarely on the outrageous fifty percent divorce rate. I will promote legislation that will fight marital breakdown by making marital counseling tax-deductible," Mr. Boteach said.
Thanks to redistricting, a pair of incumbents are battling for the Democratic nomination in the 9th District. Congressman Steve Rothman moved into the area after his home was drawn into a more Republican leaning district and he'll be challenging his friend, Congressman Bill Pascrell, for the chance to run on the Democratic ticket.