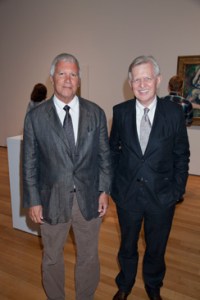 John Elderfield, formerly the chief curator in the painting and sculpture department at the Museum of Modern Art, will be joining Gagosian Gallery. Mr. Elderfield left MoMA in 2007, but he was behind the museum's popular and critically lauded de Kooning retrospective last year.
The news comes from an item in Carol Vogel's Inside Art column in The New York Times. Mr. Elderfield, according to Ms. Vogel, will be curating "museum-style exhibitions along the lines of the Picasso shows that John Richardson, Picasso's biographer, has put together [at Gagosian] over the last few years."
"Things are so different these days as the worlds of museums and galleries keep getting closer and closer," Mr. Elderfield told the Times.
Mr. Elderfield recently joined the Art.sy online art company–"the Pandora of the art world"–as an adviser. Mr. Gagosian is also reportedly an Art.sy adviser.