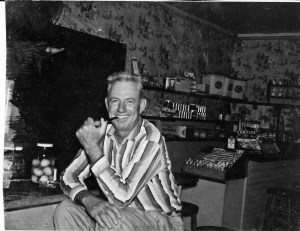 In January 1955, the painter Forrest Bess got good and drunk and used a razor blade to cut a hole into the underside of his penis. He proceeded to make an incision into his urethra, becoming what he described as a "pseudo-hermaphrodite." He believed—based on a philosophy that combined Aboriginal rituals, alchemy, Jungian psychology, the medical experiments of the doctor Eugene Steinach and Bess's own haunting visions—that the hole he'd created where the base of his penis connected with his scrotum was the key to immortality and creative vigor. Bess, according to his letters and papers, considered the male unconscious to be female, a notion that he used to make sense of what he saw as his own conflicting personae—"typical ambitious Texan" (male) and "artistic, sensitive, introspective" (female). Reductive a reading of gender as that might be, he thought that if he could combine these two personalities, he would be freed of all anxiety and tension—hence the razor blade.
He was a seasonal bait fisherman in Chinquapin Bay on the east coast of Texas near Bay City. Bess died in 1977, and lived in such seclusion that he had to ferry visitors to his house using a motorboat. Despite his isolation, his paintings hung in the homes of members of Texas high society, and he showed his work with the prestigious Betty Parsons Gallery in New York, the one-time dealer of Pollock and Rothko. Bess was connected to the New York art world through a decades-long correspondence with Parsons, and the critic Meyer Schapiro, to whom he wrote shortly after mutilating himself, saying, "The unconscious flooded in beautifully. I had found entrance to the world within myself."
In New York right now is the largest-ever public display of Bess's work. An entire gallery at the Whitney Biennial is devoted to him, a show-within-a-show called "The Man That Got Away," curated by artist Robert Gober. It will travel to the Menil Collection in Houston next year. At Christie's, an exhibition of works on offer for private sale has been mounted in the auction house's 20th-floor gallery at Rockefeller Center. The bulk of the nearly 40 paintings on view there are from the collection of Harry Burkhart and his partner Jim Wilford, Bay City locals and longtime friends of Bess who took care of him as his health and mental state began to wane.
The Whitney show is an attempt at integrating the artist's sexual theories with his work, but it also serves as a reminder that, though he died in relative obscurity, he had periods of success in his lifetime. The Christie's show, a serious survey in its own right, represents the effort to build a market for an artist who not only has been without a dealer since 1967, but whose work fundamentally can never operate under the principle of supply and demand: there are only about 125 known works and the people who have them don't tend to let go of them. The Christie's works are priced between $100,000 and $300,000, far more than they've ever been worth before. In his first letter to Schapiro, Bess wrote: "I am fairly unknown and I desire to remain so." It's taken several decades, but his wish has been effectively denied.
In 1946, Bess traveled to New York to visit galleries he thought might be interested in his paintings. His work contained a coded symbolism that would grow more complex through the years and that even Bess claimed to not understand. He mailed Betty Parsons a key explaining what certain symbols meant (squiggly line is "penis," scalene triangle is "shallow cut," etc.), but these symbols are themselves opaque. They look like hieroglyphics or cave drawings. Bess said he was painting what he saw behind his closed eyelids at night, and so his canvases remained small—about the size of his head. Betty Parsons took a more or less immediate liking to him.
Over the years, Parsons amassed an impressive inventory, accepting paintings in exchange for fronting Bess money to fix the engine on his boat or to buy tobacco and wine (he was a heavy drinker). Though he was the subject of six solo exhibitions at the gallery, including a major retrospective in 1962, Parsons sold little—Bess once estimated that he made about $200 a year on his artwork. His paintings functioned more like currency. He'd give one to a fishing buddy in exchange for an account at the local grocery store or a jar of tobacco. Others were destroyed—along with Bess's clapboard shack—in Hurricane Carla in 1961. He left a trove of paintings for Harry Burkhart and Jim Wilford that they stashed, first in a backroom in Styles Inc., the beauty parlor Wilford owned on the main drag of downtown Bay City, then in two separate bank vaults in small towns outside of Houston. Burkhart and Wilford occasionally loaned pieces for exhibitions, but they were hardly liberal with giving access to the paintings. And so his market remained small.
"Could I sell it all tomorrow? Yeah," said Amy Cappellazzo, chairman of the postwar/contemporary department at Christie's who organized the show with cocurator Charlotte Perrottey. "Someone came in the first day and wanted to buy eight. And I didn't think that was responsible. We want to place these works well."
The last time Bess was on view extensively in New York was in 1988, in an exhibition at Hirschl & Adler Modern. The gallery borrowed some of the pieces from Burkhart—they are now at Christie's—and tracked down others in Texas. The limited number of works that Hirschl & Adler offered for sale were priced around $10,000 apiece.
"Now he has a platform where other people are looking at him," said Betty Cuningham, who worked at Hirschl & Adler at the time (she now runs her own gallery in Chelsea). She purchased two Besses herself at auction in 2006 and sold them to private collections. By that time the prices for his paintings had risen to around $80,000. "But his biggest collectors are artists."
One of those artists is Andrew Masullo, whose own paintings are also in the Whitney Biennial. He also contributed two of the Bess canvases he owns to the Biennial, which he bought when they were much cheaper than they are today. One in particular, Untitled No. 12a—white rectangles carved into black oil paint with a bulbous pink and orange blob that looks like fire jutting out to the edge of the canvas—was purchased by Mr. Masullo's patron at the time, and he traded him 13 paintings for it. Mr. Masullo worked at the Whitney around the time they were deciding to do a Bess retrospective, which they did in 1981. Then in his twenties, he'd go into the office of curator Barbara Haskell to look at canvases she had leaning against her desk.
"They hit me like a ton of bricks," he said. "I had no idea what I was looking at. It looked sometimes like the paint was struggling to stay on the canvas. They were very small, but huge. They were like black holes. You could have a spoonful of a black hole and it would weigh more than the earth. It didn't look like art, which was a good thing."
That kind of endorsement isn't lost on Ms. Cuningham. She said that having artists collect your work is "the biggest sales pitch ever."
Still, the unclassifiable nature of his style has contributed to his mythical allure and slapped him with the problematic label of "outsider."
"There seems to be this impression that he was totally unknown and now sophisticated people are suddenly buying his work," said Hiram Butler, a Houston art dealer who did a retrospective of Bess at his gallery in 1986. Back then, even the most important Bess paintings were selling for around $10,000; last year, at Sotheby's, a Bess canvas sold for more than $100,000. Mr. Butler recalls the work being in collectors' homes all over Houston during Bess's lifetime. "I mean, he showed at Betty Parsons. He was friends with Meyer Schapiro. The people who bought the work in Houston, these were very sophisticated collectors."
For years, Bess worked on what he called his "thesis," a rambling document outlining his ideas about hermaphroditism and immortality that he finished in 1950. He sent it to doctors, scholars and politicians the world over, including President Eisenhower and Carl Jung. It was always sent back to him, until—the story goes—one recipient took it to be a joke and tossed it into the garbage. Bess believed the document was destroyed because the ideas were too dangerous.
Jung, however, wrote back to Bess, in a letter that the artist carried in his back pocket for much of the rest of his life. The letter has been lost, but Bess quoted it extensively in his correspondence with Parsons and Schapiro. He proudly recalled how Jung explained that one person rediscovers a variation of the hermaphroditic theory every century—a comment Bess took as validation—but, Jung added, "Mr. Bess, let us return to the safe basis of fact."
Though the thesis itself is lost, he did keep extensive notes about his research that he sent to Schapiro. They are cordoned off in a glass case at the Whitney. The ideas presented are disjointed, but ultimately self-assured and dramatic, much like Bess's paintings:
Our research however is for the star—the Quaternity—the Door to the Kingdom of Heaven, etc. In a very early dream we were in a three room house. The middle room contained all the great art treasures of the earth. A door was opened into the third room and the odor of death and the earth came forth The Woman (Mother) closed it quickly. This dream preceded the perineum incision and the wound closed very quickly. You remember that Plato would have the hero infer the small passage—outside Urethra.
Bess died in a nursing home. He'd been diagnosed paranoid schizophrenic several years before. His last wish was that his body be donated to science.
Terrell James, who organized Bess's papers for the Smithsonian's Archives of American Art—the source material for the Biennial show—compared his thesis and self-operations to Van Gogh slicing his ear.
"I think being visionary is often equated with being an outsider," she said.
mmiller@observer.com