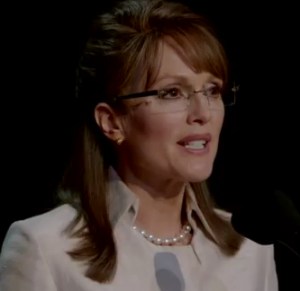 Earlier today Sarah Palin's political action committee released a video and statement slamming HBO's 2008 election drama "Game Change" as being "fiction" filled with "the half-baked truths and fabrications of the liberal left." Danny Strong, the movie's writer and co-executive producer, responded by telling The Politicker he wishes Ms. Palin watched the film before criticizing it. HBO offered to screen "Game Change" for Ms. Palin, but she declined. Ms. Palin's video included clips that she said show the "real" story of her campaign and Mr. Strong said some of the exact same footage appears in his film.
"Everything in that video is in the movie. If they would have seen the film before they attacked it, they would know that we have dramatized everything that they put in their video that Sarah Palin supporters are proud of," Mr. Strong said. "She really is a dynamic person that did a lot of amazing things for that campaign."
"Game Change" is based on a book of the same name by journalists John Heilemann and Mark Halperin. The book presented a behind-the-scenes Cliff Notes look at the election. HBO's film version focuses heavily on the McCain/Palin campaign. The movie was adapted by Mr. Strong and Jay Roach, who previously teamed up for HBO's 2000 election drama "Recount."
Though Ms. Palin and her political action committee are not pleased with "Game Change" others involved with the McCain/Palin campaign who saw the movie have given it high praise. Last month, Steve Schmidt, the campaign's top strategist, and a former chief aide to Ms. Palin, Nicole Wallace, defended the accuracy of the film in an interview with the Los Angeles Times.
"It tells the truth of the campaign. That is the story of what happened," Mr. Schmidt said.
Ms. Palin's statement announcing her video pointed out the fact Mr. Strong and Mr. Roach have both made political donations to President Obama and other Democrats. HBO released a statement defending the movie as a "balanced portrayal of the McCain/Palin campaign" and encouraging the public to "withhold any judgment until they have viewed the film."
"Game Change, the book, was applauded by audiences and pundits on both ends of the political spectrum when it was released in 2010.  The events depicted in Game Change have been thoroughly sourced by not only Heilemann and Halperin's bestselling book, but also through our own research including extensive first person interviews with those involved with the campaign," the statement said. "HBO has a long track record of producing fact-based dramas, and our mantra has always been, 'get the story right.' We stand by our movie and we hope that people will withhold any judgment until they have viewed the film."
"Game Change" premieres on HBO March 10.