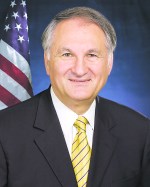 In a sign that the Republican contest for the U.S. Senate held by Kirsten Gillibrand is about to turn ugly, Nassau County Comptroller George Maragos just leveled one of the worst insults one can direct at a fellow Republican: "You are like Barack Obama."
At issue is what Mr. Maragos labels " a stunt" by Congressman Bob Turner in which he offers a free tank of gas to whichever supporter guesses the correct date on Ms. Gillibrand flips her position on the Keystone Pipeline project.  Mr. Turner was using the project to tweak Ms. Gillibrand for marching in lockstep with President Obama, who now supports the project.
"Rep. Turner's dare offering a free tank of gas for whoever guesses the time when Sen. Gillibrand will come out in support of the pipeline, is a joke and partisan politics at its worst," Mr. Maragos said in a statement. "President Obama's press conference was a meaningless political stunt as no federal approval is required for the now proposed construction of the domestic portion of the pipeline."
Yesterday, Mr. Obama held a news conference and promised to speed up the approval of the pipeline.
"These stunts by Obama and Turner will do nothing to stop the skyrocketing gas prices," Mr. Maragos continued. "Rather than call for Gillibrand to change her position and support the construction of the pipeline, Rep. Turner issued a challenge daring the Junior Senator not to change her position. Does he really want Gillibrand to now NOT support the pipeline construction which will create thousands of jobs and bring down gas prices?"
This week, I wrote a story for the print edition of the New York Observer in which I quoted some GOP operatives who lamented that the contest between Mr. Maragos and Mr. Turner–Manhattan lawyer Wendy Long is also running–was bound to turn nasty. Now it appears that it has.
Rumors have been circulating that Mr. Maragos will in the end drop his bid and run for Congress. That he is aggressively going after Mr. Turner seems to put a damper on that speculation.
"Mr. Turner should not play partisan games, jokes or dare voting against the best interest of New Yorkers," Mr. Maragos added. "Both Republicans and Democrats alike should support the immediate construction of the Keystone Pipeline without political gamesmanship."