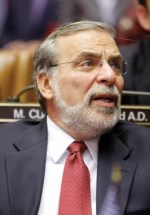 Apparently in this U.S. Senate battle, all roads lead to Dov Hikind.
The influential Boro Park Assemblyman told The Politicker  this afternoon that he received phone calls within minutes of each other from Congressman Bob Turner and U.S Senator Kirsten Gillibrand as the two prepare for battle.
Mr. Hikind, a Democrat, provided crucial support in Jewish neighborhoods for Mr. Turner's upset victory over David Weprin last year in the Congressional race to replace Anthony Weiner in the House of Representatives. 
He said he was not yet ready to make an endorsement yet however.
"I am still trying to absorb it. It is not something any of us expected," Mr. Hikind said. "Turner is a good guy. Gillibrand–I have worked with her office on a number of issues.  I got to wake up tomorrow morning and make sure this stuff is real."
Despite his party affiliation, Mr. Hikind has provided crucial cover to Republicans seeking orthodox Jewish support in recent years, backing Staten Island Republican Congressman Michael Grimm in 2010 and presidential candidates John McCain and George W. Bush.  Last year, he appeared at a Manhattan press conference introducing Texas Governor Rick Perry to New Yorkers as he prepared to run for president.