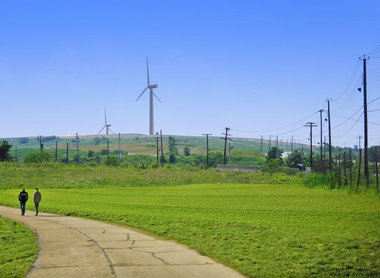 New York is about to be just as green as the Hudson River!
The Deputy Mayor, Cas Holloway, New York City Department of Environmental Protection and the New York City Economic Development Corporation announced a proposal for solar and wind power facilities in Fresh Kills on Staten Island earlier this week.
There's a 75-acre plot of land within the massive 2,2000-acre dump-turned-public park available for lease that could be developed into a facility that generates upwards of 20 megawatts of renewable energy. That is enough to power about 6,000 homes. It will double the city's natural energy capacity.
"New York City needs energy to keep it running, and we want that power to be reliable, clean, and affordable," Deputy Mayor Holloway said in an announcement. "This RFP does all of those things and, if successful, will more than double the renewable energy capacity in the City.  Renewable energy is the most sustainable kind, and under Mayor Bloomberg's leadership we're maximizing the use of City assets to develop as much capacity as possible."
These initiatives are in accordance with the mayor's PlaNYC sustainability initiatives.

Seth Pinsky, president of the EDC, also noted that it will "build the city's green economy, not only leading to job creation and economic investment, but also ensuring the sustainability of our city."
mewing@observer.com