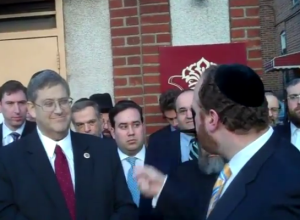 Yesterday evening, Councilman David Greenfield endorsed fellow Councilman Lew Fidler's state senate campaign, giving Mr. Fidler a bit of momentum as he campaigns for the sizable Orthodox Jewish vote in the district he seeks to represent.
Mr. Greenfield, saying Mr. Fidler is "the best person to fight for the frum community in the New York State Senate," specifically praised his plan to reduce the financial burden of Jewish educational institutions.
"I'm not only endorsing Lew, but I'm also endorsing his five point plan to help yeshiva parents, which I know is the best plan to reduce the cost of tuition of hundreds of thousands of Orthodox families throughout New York," he said.
Mr. Greenfield notably sat out the last contested special election in southern Brooklyn, declining to endorse Assemblyman David Weprin, the Democratic candidate in the campaign to replace Anthony Weiner in Congress. Mr. Fidler acknowledged this fact as he thanked Mr. Greenfield, all the while occasionally dropping in Hebrew phrases.
"I know David doesn't give out his endorsements out lightly, he's taken a pass every now and then. That he would weigh in, in this race to support me, I am so ever grateful to him and all of you," Mr. Fidler said. "This is a mitzvah I will always be very, very proud of."
"Anybody can slap a yarmulke on their head in campaign time and tell you that they're frum," he added. "What I've done my entire life has been from my heart and my Jewish soul."
View the video from Shimon Gifter below: