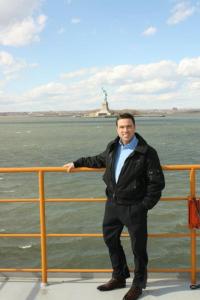 Congressman Michael Grimm called ads against him placed on the Staten Island Ferry, "smear tactics," "disgusting," and "politics at its worst" in a statement sent to The Politickertoday. The advertisements, which were purchased by the Democratic Congressional Campaign Committee, focused on reports of a possible FBI investigation into Mr. Grimm's fundraising. Mr. Grimm described the campaign as evidence the allegations of illegal fundraising being made against him are politically motivated.
"This brings credence to our call that this is political from the beginning," Mr. Grimm said. "The people of Staten Island and Brooklyn know I have been fighting hard for them and I have the record to prove it, which is why the DCCC must resort to smear tactics."
The DCCC's ads feature headlines chronicling the questions raised about Mr. Grimm's finances and the link to a website, TheGrimmFiles.com, filled with incriminating information about Mr. Grimm's business dealings and a 1999 nightclub altercation he was involved in. Mr. Grimm's district includes Staten Island and a small sliver of South Brooklyn, but he's not worried ferry commuters will be swayed by the ads.
"This is politics at its worst, and exactly what I would expect from Washington Democrats. My constituents know better than to fall for these disgusting tactics and will reject these claims when they cast their votes in November, overwhelmingly re-electing me to Congress," Mr. Grimm said.
Mr. Grimm, who was elected in 2010 is currently facing a challenge from Democrat Mark Murphy. There have been no polls released in the race, but the Cook Political Report rating for the district gives Mr. Grimm an edge.