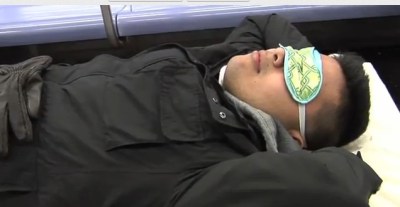 Last May, The New York Times ran an article about a transit performance piece that turned the L train into a high-class restaurant for several stops. Waiters brought out brunch for participants, who tried not to spill their panna cotta all over their lap as the subway lurched back and forth.
The exhibition smelled of an Improv Everywhere stunt, but as the Times pointed out, it was actually a collaboration with several big name restaurants. We felt deceived! Now its impossible to tell the difference between a no-pants subway ride by Improv Everywhere's Charlie Todd and a staged public exhibition planned by a larger entity…especially when the two team up together.
That's what happened when stillspotting nyc— a Guggenheim Museum Urban Studies project–asked Mr. Todd's help to create a  "Sleeper Car" in a New York subway.

Here's the museum's statement regarding this project:
While the vitality and stimulation of the urban environment can be pleasant, those living in or visiting densely populated areas, such as New York, can have wildly different experiences. The ever-present cacophony of traffic, construction, and commerce; the struggle for mental and physical space; and the anxious need for constant communication in person or via technology are relentless assaults on the senses. One wonders how locals and visitors can escape, find respite, and make peace with their space in this "city that never sleeps."

The Guggenheim Museum responds with stillspotting nyc, a two-year multidisciplinary project that takes the museum's Architecture and Urban Studies programming out into the streets of the city's five boroughs: Manhattan, Brooklyn, the Bronx, Queens, and Staten Island. Every three to five months, "stillspots" are identified, created, or transformed by architects, artists, designers, composers, and philosophers into public tours, events, or installations.
The Guggenheim Museum asked IE to create a "sleeper car" for weary passengers riding the N train in Astoria. Mattresses and eye-masks were provided.

Mainly, this just looks unsanitary and probably terrified a bunch of already over-tired passengers. We know our first thought was "bedbugs." But we're sure when it was explained that this was actually part of a Guggenheim installation, everyone calmed down and promised to renew their membership to the museum. Or at least pay for Mr. Todd's movie.