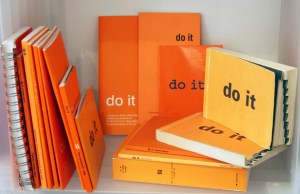 In 1993, curator Hans Ulrich Obrist and artists Christian Boltanski and Bertrand Lavier met up at Cafe Select in Paris and came up with an idea for an exhibition that would be called "Do It." They would invite artists like Marina Abramovic, John Baldessari and Dara Birnbaum to contribute a set of instructions that could then be interpreted by other artists the way a musical score written by one composer is performed by other musicians. All three artists were interested in instruction, interpretation and translation as artistic principles. "'Do It' is less concerned with copies, images, or reproductions of artworks," said Mr. Obrist in a 1996 introduction on e-flux, "than with human interpretation." Almost 20 years later, 300 artists have contributed "officially" and there have been numerous "unofficial" productions worldwide, which inspired Mr. Obrist and Independent Curators International (ICI) to start compiling documentation on the evolution of the exhibition.
"Starting last fall we began compiling this 'Do It' archive," Fran Giarratano, the exhibitions manager at ICI, told The Observer, "which was everything that ICI had in its records and everything that Hans Ulrich Obrist had in his records."
ICI toured a North American version of the show from 1998-2001. "So we have a lot of documentation of that exhibition in particular," said Ms. Giarratano, "and Hans Ulrich Obrist had a lot about the other 'Do Its' that happened." But hearing through word of mouth about other exhibitions that were taking place unofficially, they decided to open the call to anyone who wanted to submit.
The documentation will be a compendium of articles, pictures and instructions as well as any new instructions that have been created based on the original format. "In Taipei, an artist interpreted Nam June Paik's instructions," said Ms. Giarratano. "In Boise, Idaho, some students interpreted Liam Gillick's, and in Toronto in 2006, there was a spin-off exhibition called 'Do Me.'"
The book will be published by ICI and another co-publisher (they're currently in talks with several) in 2013, on the occasion of the exhibition's 20th anniversary, in a projected run of 5,000, which will be published in conjunction with a staging of the exhibition.
And while they will be commissioning artists to create new work for the book, the names of which they couldn't reveal as the artists have yet to be asked, some of the original instructions give a sense of what to expect. Marina Abramovic's contribution to the manual for the exhibition, as seen via e-flux.com, was called Spirit Cooking and called in part for the following:
Mix Fresh Milk From The Breast
With Fresh Milk Of The Sperm
Drink on Earthquake Nights
Matthew Barney's contribution, Events to be Organized, reads like the storyboard of a film script that opens with the following directive: "Marti walks forward camera from top curve of phase 8 formation carrying two helium-filled miniature blimps." Louise Bourgeois's is untitled and calls for nothing more than stopping and smiling at a stranger when walking.
Those interested in contributing should contact Alex Kleiman, Research Assistant at ICI, at alex@curatorsintl.org or 212.254.8200 x126.