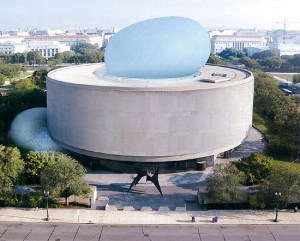 In the Washington City Paper today, Kriston Capps breaks the news that the blue Diller Scofidio + Renfro-designed bubble that will inflate inside the courtyard of the Hirshhorn Museum in Washington, D.C. next year has a new name: the Bloomberg Balloon.
Bloomberg LP got the naming rights by donating more than $1 million to the project (the exact figure is uncertain), which museum administrators say will be used to stage lectures and other events. The bubble will aslo provide additional enclosed space.
Mr. Capps on the new name:
Why rename the Bubble? According to the Hirshhorn staffer, Bloomberg LP wanted to avoid the potentially negative financial connotations associated with the word "bubble." Hence: the Bloomberg Balloon.
For what it's worth, we had been lobbying for the name the Bloomberg Bladder–because, you know, it looks a bit like one.