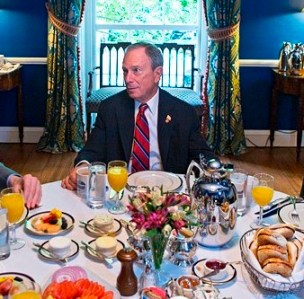 Probably the last person anyone would ever expect to shop at the Park Slope Food Co-op has decided to weigh in on the heated controversy roiling the organic aisles of the brownstone bastion. At the ribbon-cutting for Steiner Studios this morning, Mayor Bloomberg was asked for his position on the proposed Israel boycott. Were he to actually don an apron and sort bulk natural supplements for two hours a month, the mayor's vote would be a resounding "no."
For those who know the mayor and his non-New York politics, the reasoning is simple. Like fellow pol Chuck Schumer, he is a staunch defender of Israel. (You don't have to be Jewish to boycott the boycott, either, as Public Advocate Bill DeBlasio did earlier today.) In fact, the mayor encouraged stronger ties with the Land of Milk and Honey."Israel is one of the few friends that America has, that's dependable and represents everything America stands for," the mayor said sternly. "It's the only real democracy in the region, and it has been supportive of America's products and people."
He took a moment to note that "It was created in Queens," referring to President Truman's recognition of the State of Israel in 1945 during a tour of the borough.
Tomorrow night, the co-op is set to vote on whether or not it will hold a referendum on a boycott—a vote of votes, part of the parliamentary procedure governing the co-op to enable a boycott. Ah, direct democracy. Believe it or not, the mayor doesn't buy it.
"Why any of this has anything to do with selling food, I don't know," he said at the press conference. "We should be pushing for more business with Israel, not less. But this has to do with people wanting Israel to be torn apart and people to be massacred, and America is not going to let that happen."
Heaven forfend Barney Greengrass should ever pull a stunt like this.