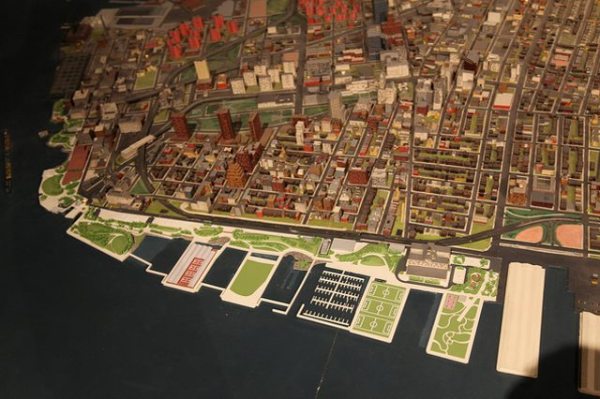 It may be the best new park in the city that's not the High Line, maybe even better, so whenever there is news of expansion at Brooklyn Bridge Park, it is good news. In this case, the good news comes in threes.
Earlier this week, the Brooklyn Bridge Park Corporation announced plans for a temporary pool to open this summer at the shore side of Pier 2, the latest attraction for the park. Measuring 30 feet by 50 feet and 3.5-feet-deep, the pool will cost either $150,000 according to the Post or $199,000 according to the Daily News. "I've long said the pool is a major priority for the park, and now the community can dive right in," local state Senator Daniel Squadron told the tabs.
The park also caved to pressure from local prep schools and the community and agreed to include a regulation-size soccer field on Pier 5, The Brooklyn Paper reports. Previously the park had said there was not enough room for a real pitch, but now the kids can kick to their hearts' content.
So with a small pool and a big field, what does Brooklyn Bridge Park really need? A miniature model of itself! That's what the Queens Museum just installed on its giant Robert Moses panorama. The museum told Gothamist that this was the first major addition since a model of Battery Park City was added two years ago.
Correction: An earlier version of this post said the Brooklyn Bridge Park Conservancy, not Corporation, had approved the new pool and soccer field. The Observer regrets the error.