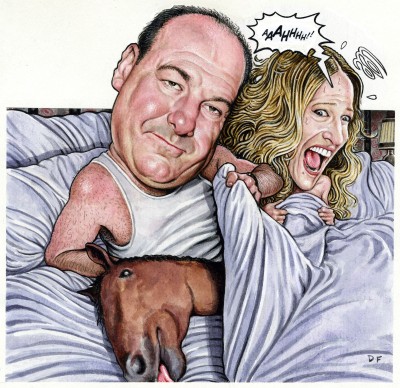 Ten years ago, it wasn't hard to decide what to do on a Sunday night. Everyone watched HBO. The programming on the premium cable network was like nothing else on the tube.
But then, Carrie Bradshaw finally landed Mr. Big, the entire Fisher family died, Tony Soprano stopped believin' in a New Jersey diner, and Tommy Carcetti became governor of Maryland.
By the time Sue Naegle arrived from United Talent Agency to take the network's top job in 2008 (alongside co-president Richard Plepler and president of programming Michael Lombardo), the programming larder was looking bare. "We walked into a schedule that was mostly empty," she told The Observer. And what could be better? "From a development and programming perspective, that's the dream."
Recently the network has gone on something of a programming binge, putting forth its most aggressive new slate in memory. Luck, the horseracing drama from director Michael Mann and creator David Milch, debuted in January to respectful reviews and strong ratings; it was then swiftly renewed for a second season—then even more swiftly cancelled last week due to the on-set deaths of three horses (or perhaps, some speculated, due to a precipitous drop in viewers). Last month saw the debut of a new Ricky Gervais comedy, Life's Too Short (his third for the network), and next month, HBO will debut two new comedies, the youth-oriented Girls and the political farce Veep, as well as the second season of the fantasy epic Game of Thrones. Summer will bring Aaron Sorkin's latest look behind the scenes of something (this time it's a cable news show). An adaptation of The Corrections is filming now, and A Visit From the Goon Squad is reportedly in development.
It's about time. HBO, which got its start airing heavyweight boxing matches, came out swinging. After years in which the broadcaster came to define quality television, its lessons are visible up and down the dial. The hourlong contemporary adult drama in The Sopranos mold is now standard-issue. The buzziest Sunday night drama this year was Downton Abbey, on PBS.
The competition will heat up still further later this year, when Netflix debuts an hourlong drama of its own, the David Fincher-directed House of Cards, to be followed by the revival of Arrested Development and the women-in-prison series Orange Is the New Black. (Original programming from Hulu and Amazon is said to be just around the corner.)
But between HBO's genre hits (Game of Thrones, True Blood), its sepia-toned period curios (Luck, Boardwalk Empire), its noble if ignored charity efforts like the New Orleans drama Treme, and its low-risk comedies (whatever passing fancy Ricky Gervais happens to alight upon), HBO now seems as unsure of how to present itself to the world as Carrie ransacking her shoe closet—and at the very moment networks like Showtime, AMC and FX are ascendant.
Did every channel learn from HBO's success except for HBO?
"Their brand to me is, truthfully, a little bit dated version of high quality," said Mo Ryan, a longtime Chicago Tribune television critic, currently at the Huffington Post. "HBO is doing what HBO does: hire big-name talent to do expensive projects, and take chances on a few things that don't cost them very much money. Their approach is safe and predictable. That leads to competent programming, but it doesn't lead to the next Homeland."