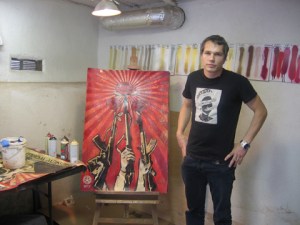 The artist Shepard Fairey will appear at the 2012 Tribeca Film Festival for his work on the documentary Let Fury Have the Hour. The film is an official selection of the 2012 festival. It focuses on the responses and reactions of a group of 50 artists and musicians to the political climate of the 1980s. It was directed by Antonino D'Ambrosio. Mr. Fairey was a collaborator on the project.
After the film is screened, Mr. Fairey will speak on a panel with Mr. D'Ambrosio, the playwright Eve Ensler and Wayne Kramer, the guitar player for the MC5. They will talk about "the power of artistic expression."
Speaking of the power of expression, back in February, Mr. Fairey pleaded guilty to criminal contempt for destroying and fabricating documents in a civil lawsuit between himself and the Associated Press. His famous Obama "Hope" poster, as the AP said in the case, made use of an "uncredited and uncompensated" AP photograph. Mr. Fairey awaits sentencing on July 16 and could face up to six months in jail. The Tribeca Film Festival runs April 18-29.
In other news, Mr. Fairey has secured the film rights for George Orwell's novel 1984 for Imagine Entertainment, the production house run by Brian Grazer and Ron Howard. Mr. Fairey designed a new Penguin edition of 1984 in his signature gaudy technique filled with bright red and orange explosions of color that basically completely contrasts with Orwell's icy prose style. Oh well. Maybe the movie will turn out to be quite faithful.