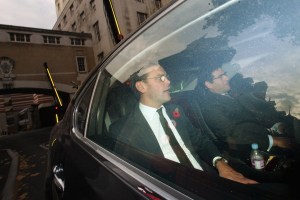 James Murdoch will leave the board of Sotheby's auction house, the company revealed in a recent report to the Securities and Exchange Commission.
Mr. Murdoch, who joined the board in 2010, informed it of his resignation in a March 14 letter that said he would not seek reelection at the company's May 8 annual board meeting "in order to focus on his core responsibilities" as deputy chief operating officer of his family's News Corporation, according to the Financial Times.
Mr. Murdoch, formerly the heir apparent to his father Rupert, has recently seen his reputation tarnished by the investigation into phone hacking at News Corp's U.K. papers. He has already stepped down from the board of GlaxoSmithKline and the chairmanship of News International, News Corp's U.K. newspaper division.
"It would have been better if I had asked more questions," he recently told the House of Commons' media committee, on the subject of his culpability in the widespread phone hacking.