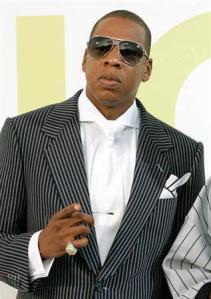 We're not really sure how we missed this one, but we just randomly re-read GQ's Jay-Z profile–the one that declared him the Man of the Year–from the end of 2011. That article opens with a scene of the rapper, who is also a collector and, apparently, part-time art critic, walking around Gagosian's West 24th Street gallery. This was back when the gallery was exhibiting Richard Serra's Junction/Cycle, those giant swirling steel sculptures that took up most of the enormous, warehouse-like space.
Recall here that Jay-Z made Larry Gagosian into probably the first art dealer ever to be name-dropped in a hip-hop song. (Your day will come, Paula Cooper!) That lyric is from the song "That's My Bitch," off his album with Kanye West, Watch the Throne. The "bitch" in question is not referring to Lar-G. Here's the line: "Call Larry Gagosian, you belong in museums."
The possible implications for the art market of calling the Gagosian gallery empire a museum are not lost on us.
It is also highly possible that, in this same song, Jay-Z makes reference to Thelma Golden, the director of the Studio Museum in Harlem, the self-proclaimed "nexus…for work that has been inspired and influenced by black culture":
"Uh, Picasso was alive he woulda made her/That's right Mona Lisa can't fade her/I mean Marilyn Monroe, she's quite nice/But why all the pretty icons always white/Put some colored girls in the MoMA/Half these broads ain't got nothing on Wilona/Don't make me bring Thelma in it."
Alternately, as this web site, which annotates the song in its entirety, argues persuasively, the line could refer to the confrontational Thelma character from Good Times, as the mention of "Wilona" is most certainly in reference to the character of the same name from that classic 1970s sitcom, but if you're asking us, we'd say he is punning on both.
Let us interrupt here to say: This song! What a song!
Anyway, in the GQ profile, Jay doesn't dwell on the Serra sculptures. Ealan Wingate, a Gagosian director, takes the rapper into a back room and shows him a Cy Twombly. The scene culminates here:
He stands ten feet back from the Twombly, and for a long minute nobody says anything and the wind rattles the gallery's windows and he briefly ceases to be the focus of everybody's attention.

"You hear that silence right there?" he finally says, laughing. "That's art workin'."
Will somebody get this guy a column? Let's all listen to "That's My Bitch," likely the best pop song written about art since the Modern Lovers' "Pablo Picasso."