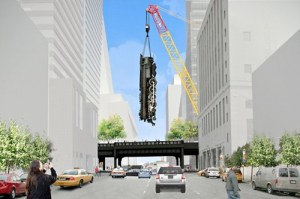 The High Line hasn't seen a running train since 1980, when the last one pulled three carloads of frozen turkeys. But the train rails between Gansevoort and West 34th Streets on the west side of Manhattan, which opened as a public park in 2009, may soon be host once again to a locomotive. But this train, a sculpture by artist Jeff Koons, will dangle vertically over the park. The New York Times reports that Mr. Koons's Train, a life-size model of a 1943 Baldwin 2900 steam locomotive is estimated to cost $25 million to create and install, according to one feasibility study.
Robert Hammond and Joshua David, the founders of the Friends of the High Line, the organization that runs the park, said that they had considered the Train sculpture once before, in 2008, for a plaza at 10th Avenue and 18th Street, but the sculpture was too big for the space. This time, the train, which would be suspended vertically over the park by crane, may potentially be located at the northern tip of the second section, around 30th Street and 10th Avenue.
The sculpture would be constructed of several tons of steel and carbon fiber, and, from time to time, the train would spin its wheels or blow its horn.
"The power and the dynamic of the Train," Mr. Koons said in a statement, "represents the ephemeral energy that runs through the city every day."
But getting the Train up and running will cost money that they don't yet have, in a time when the Friends of the High Line is already looking for tens of millions of dollars to complete the third and final portion of the park. As of now, the Los Angeles County Museum of Art is investigating potentially acquiring the work and bringing these bells and whistles to life.