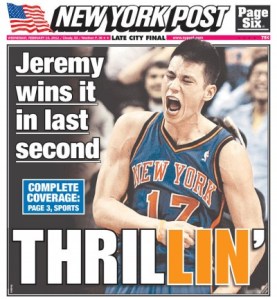 Since the beginning of Jeremy Lin's starmaking month with the New York Knicks—and of course, New York City, and after that, the world—the secondary market for Knicks tickets (read: scalpers) have obviously seen a huge uptick in demand, and thus, Knicks ticket prices. Now, the New York Knicks have officially brought down the ticket increase hammer.
In all actuality, the increase doesn't look so bad on paper compared to the one New York Rangers fans are going to get hit with. Either way, not fun. Via the Knicks Zone blog, the press release issued from MSG:
For the 2012-13 season, Knicks season ticket prices will increase an average of 4.9%, and Rangers will increase an average of 9.5%. Price increases are primarily focused on upper bowl seats, reflecting the new amenities and improved sightlines in the upper bowl.
Much of the focus of the increased ticket pricing is related to said upper bowl seating:
When fans return to The Garden for the 2012-13 seasons, the seating configuration in the upper bowl of the Arena will be completely transformed. The upper bowl will offer larger, more comfortable seating and significantly improved sightlines as the incline for the upper bowl will increase 17 degrees, moving fans seven to 10 feet, or nearly three rows, closer to the action. Season ticket holders will be relocated to new seats accordingly.
Jeremy Lin isn't, for what it's worth, absolutely guaranteed to be with the New York Knicks next season. Jeremy Lin, in the second year of a two-year deal (that didn't start with the Knicks). Chances are—if he's chasing the money, at least—he'll end up in New York. But, as Brian Cronin at Knickerblogger explains, it's not a lock:
Both Fields and Lin are technically restricted free agents. However, due to the so-called "Gilbert Arenas provision," other teams are limited in what they can offer Fields and Lin. They can only offer them up to the full mid-level. In the case of Fields, they Knicks would be able to match any offer and not have to touch their own mid-level exception (since they have Early Bird Rights on Fields). With Lin, though, they'd have to dip into their mid-level exception.
Odds are that the Knicks won't have a problem selling to season ticket holders, even with the increase. Anybody in those seats (or anybody with them, rather) just saw their team become one of the most exciting and watched sports franchises in the world. Still: If anything makes one conscious of just how worthy an investment is—maybe, in this case—it's the price one pays to keep their cash in the game. Literally.
fkamer@observer.com | @weareyourfek