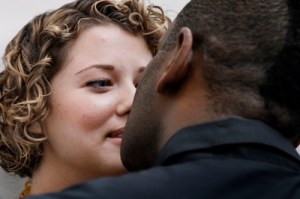 The artist Kara Walker has withdrawn a piece scheduled to be performed by the artist Clifford Owens as part of his "Anthology" series at MoMA PS1 this Sunday.
The exhibition includes a series of performances in which Mr. Owens interprets instructions, or what he calls a "score," given to him by many other artists, including Ms. Walker, whose piece includes a demand for sex and mention of a "forced sex act."
Yesterday, Gallerist reported that Mr. Owens intended to carry out the score by Ms. Walker, previous performances of which have involved Mr. Owens french kissing and groping members of the audience.
The full score reads as follows:
"Score: French kiss an audience member. Force them against a wall and demand Sex. The audience/viewer should be an adult. If they are willing to participate in the forced sex act abruptly turn the tables and you assume the role of victim. Accuse your attacker. Seek help from others, describe your ordeal. Repeat."
While it's unclear what exactly Mr. Owens planned to do on Sunday, he told us in an interview at the Armory Show, "There's a reason why I don't try to force a sex act on the audience."
"But Sunday," he said, "I'm going to take it there. And I'm really nervous about it."
The implication that Mr. Owens might use "force" on an audience member in the commission of a "sex act" in his performance was enough for Ms. Walker to rescind her involvement with Mr. Owens's piece, tantamount in the murky world of performance attribution to withdrawing it from the show. In an email yesterday, she said she hadn't actually written the score for Mr. Owens, but rather for the program of a William Pope.L tribute to Fluxus at MoMA last year, for which Mr. Owens performed. Mr. Owens later requested to use the score for his own work. As per Ms. Walker, "when Clifford (whom I do not know) propositioned me for the piece, I said sure."
In a note that Ms. Walker sent to Mr. Owens this morning, which was shared with Gallerist, Ms. Walker stated:
I am withdrawing my piece from your Anthology Series. Your interpretation of my score, which I composed as a hypothetical, a 'modest proposal' in the Swiftian sense has pushed at the boundaries of what I deem acceptable. It has been told to me that you plan to take the gesture a step further and "force a sex act" on a viewer in an up coming performance.  I refuse to have this idea of mine cause anyone physical harm.  Challenging and highlighting abusive power dynamics in our culture is my goal, replicating them is not. Please cease and desist."
We called On Stellar Rays, Mr. Owens's gallery, seeking comment from him about the note sent by Ms. Walker. Candice Madey, the gallery's owner, said, "I'm not sure if that is confirmed…. I think what has happened is that it has really created a dialogue, which has been sort of ongoing. Which I think is the intention of the score."
Whether or not Mr. Owens performs Ms. Walker's score on Sunday remains an open question.