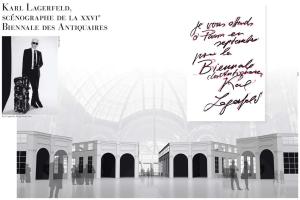 The 26th Biennale des Antiquaires, hosted by the Syndicat National des Antiquaires at the Grand Palais in Paris, will be staged this year by Karl Lagerfeld. On display will be a staggering display of objects that includes archaeological rarities, armor, furniture, paintings, books, tapestries, coins, medals and jewelry.
The fair has 150 exhibitors and is expected to draw more than 100,000 visitors. In 2012, it will extend its reach in the Grand Palais by re-opening the building's Salon d'Honneur wing, which has been closed for years due to renovations. A majority of booths are Parisian galleries, but more than half of their clients are Americans. New York's L&M Arts and Marlborough Gallery will also be exhibiting.
Mr. Lagerfeld, whose official title is "scenographer," had this to say of his staging of this year's Biennale: "The era is different, I wanted to evoke, not reconstitute."
Syndicat National des Antiquaires is embarking on a 24-city global tour to count down to the public opening of the Biennale on Sept. 14. That tour begins tonight at a Manhattan "coming out" party at the Consulate General of France.