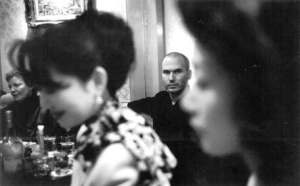 In the new issue of Bookforum, Choire Sicha takes on the issue of the rise of celebrity in the tony worlds of art and literature, in particular the boom in renown of "cultural truffle hounds," people like Klaus Biesenbach, chief curator at large of MoMA and director of MoMA PS1, whose job it is to find and bring to our attention great cultural treasure.
The "quality celebrity" is one, according to Mr. Sicha, like James Franco and Antony Hegarty, who has both recognition and is considered an artist. Then there are those who are great at both and operate in a way somewhat akin to journalists, like Moby. But then there are those whose donning of the journalistic-beat makes us slightly uncomfortable because of their position. Enter @Klausbiesenbach.
Believing it instructional to read as one text a collection of Mr. Biesenbach's Twitters as evidence of his "brand" and how it is developed in the Twitterverse, Mr. Sicha analyzes a sampling of Mr. Biesenbach's tweets from the more personal to those aimed at other celebrities—such as on Valentine's Day, when the curator asked Derek Blasberg, the socialite-journalist, how the Marc Jacobs show went, when he tweeted at actress Katherine Heigl asking if she would be at the premiere of Marina Abramovic's film in Berlin or when he tweeted at the Scissor Sisters frontman, "@jakeshears any good party tonight or tomorrow night in sundance?" It's the tension between these "personal texts" and the nature of the business of this man who is "an institutional network unto himself" that is both fun and problematic. Mr. Sicha says:
There is something quite charming in the lack of plural; also something German about the quest for the night's one best social event. Then there was this, too: "tomorrow is jean genet's 101 birthday." Something about that reflection tucked alongside all the party planning and celebrity name-checking, seems very lonely.

In light of this text, these interests, performance activities under Biesenbach's direction become a bit suspect. They are a species of cool-hunting, of celebrity obsession."
While Mr. Biesenbach's celebrity obsession is not exactly news, Mr. Sicha does remind us that it does still make us a tad uncomfortable to see the curator at one of the world's top institutions getting into the pit with the rest of us. And while his tweets may not reveal a life of the mind anymore interesting than our own—or that he has anyone editing his Tweets anymore than we do (from today: "in redhpok: max brand's studio @monopolmagazin http://pic.twitter.com/QwNMUIC2″ then, "oops, redhook, of course")—we're happy the "sexy back rooms" of these institutions are being open, if only to be crushed by a few dropped names.