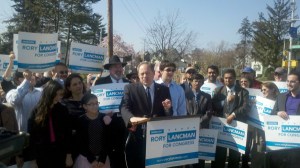 Announcing his campaign for an open eastern Queens Congressional seat this afternoon, Democratic Assemblyman Rory Lancman started laying the groundwork for his campaign's messaging. In addition to the standard political stance of fighting for middle class families, Mr. Lancman heavily emphasized issues of counterterrorism and safety, likely an attempt to appeal to foreign-policy minded Jewish voters in the district.
Even the campaign signs being waved by the crowd resembled the Israeli flag.
"As an Assemblyman, I wrote the law that protects authors and journalists, who expose terrorists," he noted early on in his speech.
"I wrote the law that protects citizens 'who see something and say something' from harassing lawsuits," he said as well, later adding, "And I wrote the law requiring the state to focus on the anti-terrorism security needs of New York's non-profit institutions, to keep us all safe, especially communities of faith."
Two other Democratic candidates have also announced their intentions to campaign for the seat: Assemblywoman Grace Meng and Councilwoman Liz Crowley. Earlier today, Ms. Meng received the formal endorsement of the Queens County Democratic Party.
Watch Mr. Lancman announce his campaign below: