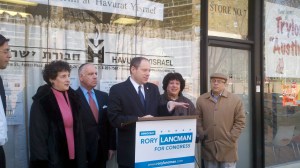 The various candidates for an open Queens congressional race are rushing to demonstrate unwavering support for Israel, and one of them, Democratic Assemblyman Rory Lancman, is hustling to try and make that argument the hardest.
For example, earlier today, Mr. Lancman held a press conference calling on the U.S. Department of State to change its policies and allow its passports to recognize the country of Israel as a birthplace for citizens born in Jerusalem
"Israel is a key part of this race. A big part of a Congress Member's responsibility is to help shape foreign policy for this country," Mr. Lancman told The Politicker after the event. "Where one stands on Israel, what one's record on Israel has been, and what one's vision is for a strong U.S.-Israel relationship, I think is going to be a big part of the primary and a big part of the general election."
"I think voters who care about Israel — and many good voters in this district do, of all faiths — are going to see that I'm someone who has done the hard work and is best positioned to be an advocate for a strong U.S.-Israel relationship," he later added.
Mr. Lancman isn't the only candidate in the race devoting a large portion of their campaign's messaging to the topic of Israel's security. Councilman Dan Halloran and Assemblywoman Grace Meng both declared their strong support for Israel in their campaign announcements.
The focus on Israel is interesting, as the district is more heavily Asian-American than anything else, but foreign policy-minded Jewish voters are considered an electorally significant swing constituency and the race is likely to see more plenty more events held in front of Jewish congregations like today.
Watch Mr. Lancman make his announcement and field questions afterwards below: