A few weeks ago we took note of Steinbrenner Syndrome, wherein a New York City sports player or team is only as loved as their last great performance. It's the disease embedded in the genetic code of New York City's sports media and fans. Now, as far as Linsanity's concerned, we can consider ourselves relapsed.
In today's New York Times, Howard Beck lays it bare in his headline: "Linsanity Has Left The Building," and who notes in his second paragraph that it's "the end of Linsanity as we know it." The primary case concerns the resignation of coach Mike D'Antoni, and his replacement, Mike Woodson, whose style of coaching (veterans over rookies, isolation play) doesn't favor Jeremy Lin (a rookie who thrives on the pick-and-roll offense). All this, even as Beck admits:
Despite his recent struggles, Lin remains wildly popular at the Garden, and with fans around the world, who were captivated by his incredible, come-from-nowhere rise. Lin is beloved by most of his teammates, who appreciate him for reviving their season with a seven-game winning streak and what seemed like a million uncanny clutch plays. But circumstances have changed, and Woodson cannot afford to be sentimental.
Beck, a revered sportswriter, is probably correct in his predictions. That doesn't make the headline any less sensational, nor the case of Steinbrenner Syndrome any less prevalent.
Mind you, a brief timeline of Linsanity:
Feb. 7th: The Times' first mention of "Linsanity," as written by Howard Beck.
Feb. 15th: The Times declares in a photo essay that Linsanity has "returned" to the Garden. Where did it go? Away games, obviously.
Feb. 16th: The Times goes to Harlem to ask people in Harlem about Linsanity. Elsewhere in the Times, "Knicks Win Again, Yawn" goes one blog headline. By our count, there are twelve separate articles published by the Times on the 16th with a mention of "Linsanity."
Feb. 18th: The Times notes Linsanity as "in full force" at the Garden.
Feb. 23rd: Linsanity, according to the Times, may be "peaking."
March 1st to March 7th: 0.71 seperate mentions of Linsanity over a one-week period. Compare this to February 10th – February 16th, when the Times averaged 5.571 separate articles per day with mentions of Linsanity. In New York City, Linsanity literally disappeared from the Google Trends chart at the end of February.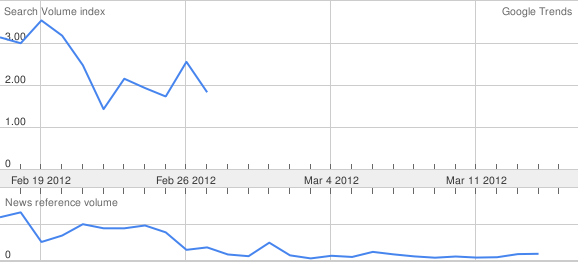 Compare that to Taiwan, where it hung on at a higher rate for a longer period:
And there might be a case to be made. But the fact is, Jeremy Lin is still filling seats at the Garden, because of Jeremy Lin fans (Knicks fans, less so). Linsanity is a wider phenomenon than New York and New York Knicks fans. The New York Times, while not normally prone to such pronouncements—unlike, say, the New York Post, the New York Daily News, and occasionally, ourselves—is as criminal in perpetrating a nuance-lacking hype-cycle as anyone else, and like anyone else in the hype-cycle perpetrating game, is bent on controlling it by making grand pronouncements concerning it. After all, if their most revered sportswriters aren't immune to taking part in it, who in New York's media isn't?
Howard Beck's concern is to be taken seriously in one regard: If Knicks owner James Dolan's replacement for D'Antoni does, in fact, decide to diminish the spotlight of Jeremy Lin—the most exciting thing to happen to the Knicks in ages—paired with the bi-polar nature of Knicks media and fans (who have apparently all but abandoned him), the fact is that Lin's fanbase will exist wherever he goes. And he might already be scouting new places to take it. Or as we explained a few weeks ago:
The fact is, New York City is a fair-weather town. Lin has a one-year contract with the New York Knicks. If he continues to be a sensation, he'll soon have plenty of options deciding where to play. But will Lin flee the hot zone, and find a home free of that malady of the spoiled sports fan?
[Photo by Chris Trotman/Getty Images]
fkamer@observer.com | @weareyourfek