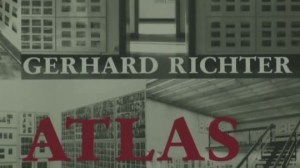 Gerhard Richter's Twitter account provided a link to pure pleasure this morning, sharing a new video of Mr. Richter and curators Dietmar Elger and Helmut Friedel discussing the artist's gigantic Atlas project, which is now on view at the Kunsthalle im Lipsiusbau, Dresden, Germany, through April 22.
Atlas, which Mr. Richter has been working on since around 1962, is comprised of 783 framed panels filled with photographs, studies, documentation and found images compiled by the artist. It's a sort of parallel, ongoing archive of his career. There are family photos, images of his paintings in progress, some pornography, snapshots of concentration camps, landscape photographs taken by the artist and more.
The work is owned by the Lenbachhaus museum in Munich, which acquired the work from Mr. Richter himself. "It would have been a shame to throw it away, but it wasn't good enough to sell either," Mr. Richter explains in the video with his inimitable brand of wry modesty.
Mr. Richter happens to have the best website of just about any artist. It's encyclopedic! In fact, it has images of every single one of the 783 panels in Atlas online.
In the video, the artist also shares this about the name Atlas, which was added to the archival project after about 10 years of work: "I find the title to be quite punchy. And I do not remember how it came about. It might have been with Heiner Friedrich." (Mr. Friedrich was one of the artist's early German dealers, who later moved to New York and eventually co-founded the Dia Art Foundation.)
And then there's this comment from Mr. Richter: "It is just documentation. No, it is not a work of art, I don't think so."
The documentary Gerhard Richter Painting is screening at Film Forum only through Tuesday. Don't miss it!