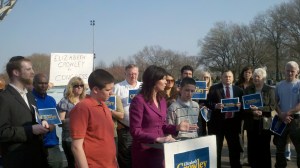 Councilwoman Liz Crowley formally announced her campaign for Congress this afternoon standing beneath the Unisphere in Flushing Meadows – Corona Park.
"As a daughter from Queens, from a very young age I felt the calling for public service," she declared with her supporters standing behind her.
Her campaign message relied heavily on broad Democratic themes:
"Washington needs a strong voice for Queens. A voice that will fight to protect key services like Social Security and Medicare. A voice that will fight to protect and encourage job growth by investing in our infrastructure. A voice that knows that a sound education is the making of the American dream. A voice that understands the importance of protecting women's rights and access to health care. A voice that understands the threats of terrorism."
After the event, she took only a handful of questions before briefly talking to supporters and being whisked away from reporters.
Notably, in response to a question as to why the Queens County Democratic Party, run by her cousin, Congressman Joe Crowley, is supporting Assemblywoman Grace Meng instead of her, she praised both Ms. Meng and her other primary opponent, Assemblyman Rory Lancman, before contending the issue was more complex than Mr. Crowley's individual support.
"It's not one person, it's an organization," she said. "They come together and make a decision. However they too respect the democratic process and at the end of the day it'll be the people who live in the neighborhoods throughout the district … that decide who the nominee is."
"I firmly that believe with all of the support I have, as soon as I am able to get my message out to the vast majority of voters, that they will choose me as the Democratic nominee," she added.
Watch Ms. Crowley's announcement event below: