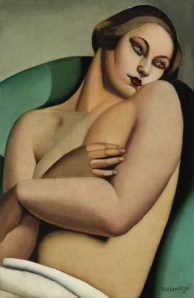 A lost painting by artist Tamara de Lempicka, Nu adossé I, has been rediscovered and will appear on the auction block at Sotheby's Impressionist and modern sale on May 2.
The painting was included in de Lempicka's 1925 exhibition at Bottega di Poesia in Milan and then disappeared. According to a press release, Sotheby's was contacted directly by the painting's owner last year. It is estimated at $3 million to $5 million.
The location of the work has been unknown for decades. It was, in fact, described as such in the artist's catalogue raisonné, published in 1999.
De Lempicka is one of the best-selling female painters. A new auction record for the artist's work was set in June 2011 at Sotheby's when La dormeuse sold for $6.6 million. The record was broken later that year at Sotheby's when the painting Le rêve sold for $8.5 million.