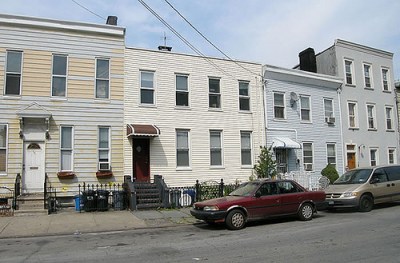 Lucky editor Brandon Holley has a personal essay in Glamour magazine this month, describing a home invasion she experienced last March. An open window on the ground floor of her Brooklyn house was broken into in the middle of the night by a man who stood over the bed where she, her husband, and her two-year-old son slept, demanded their money and threatened to kill them.
The scene is chillingly rendered, but it's almost more interesting to hear the former Jane editor describe the hazards of gentrification. It's rare that an article about Ms. Holley fails to mention that she lives in Red Hook; the remote industrial neighborhood serves as shorthand for her many cool aspects (opened Max Fish, worked for Sassy, married a musician). After Jane folded, Ms. Holley ran Yahoo! women's site Shine from her home, sometimes in her pajamas.
New York visited the wood-frame house built in 1899 for a 2007 article on the de-gentrification of the neighborhood, when she was hosting a fundraiser for the Red Hook Initiative, the poverty-fighting nonprofit at which she volunteers (and to which she donated the writer's fee for the Glamour piece).
Holley's house, which she bought with her husband in late 2004, then gut-renovated for a year, sits on a typical Red Hook block, by which I mean a dark, unremarkable stretch of three-story, vinyl-sided rowhouses along a cracked and wobbly street. When I first arrived, I have to admit I thought I'd written down the wrong address. But walking through her open door, I entered a totally different world: an artfully reimagined loftlike space with a sunken central room, concrete floors, and a large manicured backyard. Inside, the assembled guests enjoyed a "Taste of Red Hook," displayed on long tables with white tablecloths: gumbo from the Good Fork, sweets from Baked, and greasy, delicious huaraches from one of the vendors who work weekends at the Red Hook ball fields.
Five years later, Ms. Holley is back to getting dressed up and taking a car to 4 Times Square every day, but according to the essay, she's still something of an outsider in a neighborhood stalled in transition.
She wrote:
"You don't fit in here," Jerry, my busybody neighbor, had told me a few months before. He had been raised in rough-and-tumble Red Hook, Brooklyn, where I've lived for the past seven years. Perched happily on my stoop on my quiet block, I just smiled—I was used to his diatribes about yuppies. Our neighborhood has undergone a wave of gentrification, and I'm definitely a part of that. I shop at the little boutiques. I go to the new restaurants. I wear heels to work.

"You aren't careful!" Jerry continued. "You don't lock your door, you leave your windows open—you can't do that around here!" As usual, I argued with him. Even though I grew up on a small farm in Great Falls, Virginia, I'm street-smart, I told him. I've never been the victim of a crime.

But I'm also not delusional. Red Hook can be a tough place. Back in the eighties, a cover story in Life magazine proclaimed it the "crack capital of America." It's home to the Red Hook Houses, New York City's second-biggest housing project, and you commonly hear about gangs and crime there. So as much as I liked to spar with Jerry, his criticism unnerved me. Part of me had refused to let go of the easy way of life I grew up with. Until that morning in March.