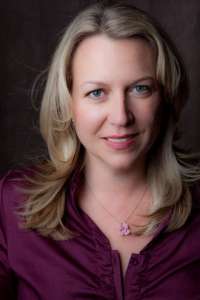 We rushed into Midtown's fancy french bistro Cognac, already five minutes late to meet Cheryl Strayed, the recently (or not) outed authoress of the Dear Sugar advice column. On Stephen Elliott's site The Rumpus, Dear Sugar has blossomed in the two years since Ms. Strayed took it over from her predecessor, Steve Almond. It went from snarky relationship advice to something much more personal…and universal, under the 43-year-old Portland author's touch.
Dear Sugar always answered her readers' questions with anecdotes from her own life, but instead of over-sharey, Dear Sugar became something of an online Oprah. She's been there, honey!
She was only in town for the evening, to read selections from her new memoir, Wild, at the Powerhouse Arena in Brooklyn. The New York Observer had approximately 1 hour to pick the advice queen's mind…but we created a catch for the Portland native. Instead of answering for a general audience, our questions were specific to New York (or at least a major city).
To be honest, we spent all night thinking of questions that Ms. Strayed already hasn't answered: Facebook relationships, money, jealousy, infidelity. We had only been able to come up with one. But it was a dozy.
"Okay," The Observer said, as the pretty Minnesota native took a bite of her chicken salad. "Bedbugs."
Ms. Strayed blanched. "Bedbugs?"
"What if you meet someone you really click with, but they have bedbugs? How soon should they tell you? And since they can be transferred by clothing, how are you supposed to let them touch you? Would you let them into your house? What about your children's welfare…bedbugs go after kids."
"And," we added for dramatic effect, "You can never, ever get rid of them. Even if you do, you'll probably go crazy and spend the rest of your life seeing bugs and developing a psychological disorder."
Ms. Strayed, to her credit, kept chewing. "Are bedbugs really that common in New York? Should I be worried about my hotel?"
"Your hotel, subways, furniture on Craigslist, movie theaters…bedbugs are the HPV of insects too, because some people aren't allergic to the bites, so they can give it to you without knowing they are infested."
"Well first of all, we're fooling ourselves if we think that only the people who tell us they have bedbugs actually have them. A lot of people wouldn't tell you. So in some ways, a guy telling you on a first date is being admirably honest," Ms. Strayed said after some thought. "They're being vulnerable and…"
She paused.
"Are there really no creative solutions to this?" Ms. Strayed asked, perplexed. "If every place had bedbugs, won't everyone eventually have them?"
We explained that as prevalent as the suckers are, the fear of contracting the little suckers has been overblown, now that you can look up every building in New York and see if they've ever had an infestation. "It makes people crazy, even the slight chance of getting them," we told her.
So what part of your first date should the bedbug story come out?
"This is one of the most perplexing questions I've ever had," Ms. Strayed admitted. "You should never lead with 'Oh, I have this problem,' but you want to be honest and tell them as soon as possible. Is it safe to hug someone with bedbugs?"
"Not really. Probably not."
"Okay." The advice columnist furrowed her brow and talked it through. "So the stigma for bedbugs is worse than the stigma of getting divorced."
"Right."
"Well, I always try to look at the underlying question. So this isn't just about bedbugs: it's about people's fears versus their desires. Trust your gut: if you really like the guy and you see a future with him, hop a plane and elope in a Vegas chapel. Because if it was going to work out, his problems…no matter what they were…would become your problems anyway. That's how relationships work."
(Side note: He should probably burn his clothes first, to be on the safe side.)
The nice part of that plan, we realized, was that if he turned you down, he'd reveal himself to be more afraid of an easily-annulled commitment than you were of his flesh-eating vermin.
No wonder Dear Sugar is so damn good. Now if you'll excuse us, we have to go scrub ourselves down now.