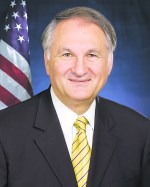 In the time since he has announced his intention to run for the Senate against Kirsten Gillibrand, Republican George Maragos has seen some would-be challengers for the G.O.P nomination float their names (Dan Senor) others take a long look at the race before deciding against it (Marc Cenedella) and still others decide at a late date to their hats in the ring (Wendy Long, Joe Carvin.)
Now, with the announcement that Bob Turner is joining that last group, Mr. Maragos, the Nassau County comptroller sounds determined to do what he has done so far and forge ahead without minding the competition.
"I am focused on my campaign and currently in Albany meeting with the Republican State Assembly discussing statewide economic issues," Mr. Turner said in a prepared reply to The Politicker. "I will be announcing additional endorsements of my nomination for U.S. Senate shortly."
Due to his early start, Mr. Maragos already has an advantage and has enough county parties sewn up to insure a spot on the ballot, but the fact the GOP bigwigs keep searching for an alternative is a sure sign that the party isn't sold on him as a nominee.