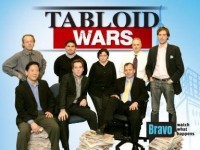 Martin Dunn was the editor of the New York Daily News for about ten nonconsecutive years: Once in the early 90s, and again from 2003 to 2010. Now in his old stead is Colin Myler, the former News of the World editor thrown under the bus by the Murdoch family. Myler's rise to the position was ostensibly going to reignite the longstanding rivalry between the New York Daily News and the Murdoch-owned New York Post. We learned that wasn't the case after the revelation that Myler held onto a story about the 'Soccer Mom Madam' Anna Gristina, bragging about her "close, close friendship" with the editor of the New York Post, Col Allan.
Col Allan happens to be the former boss of current New York Daily News editor Colin Myler. Martin Dunn has some thoughts about this.In a statement given to The Observer through a spokesperson, Col Allan denied ever meeting or having a relationship to Anna Gristina or her business. The Observer reached out to the Daily News as to why the story was held. Did it not stand up to the tabloid's threshold for killing a story? Did they simply not find it newsworthy?
Or was Colin Myler just acting the way any decent human would, when handed an incendiary tabloid story about their former boss and good friend?
After all, it wasn't but five years ago that Allan and Myler are together quoted screaming at a Daily News gossip—in front of their wives, at dinner—about how awful the Post's rival tabloid truly is.
When asked about the story—or the motive behind holding it—a spokesperson for the Daily News declined to comment.
But as Martin Dunn explains in an editorial for The Guardian, none of this would've stopped either tabloid from running the story—with no shortage of glee—when he was there, less than two years ago.
Martin Dunn—who The Observer hears was spotted in plucky local upstart DNAinfo's newsroom when our story was published yesterday—runs down the various ways over the years in which Col Allan and the New York Post never wasted an opportunity to trash Dunn or the Daily News, one of which amusingly involved sending a shipment of peanuts to Dunn's office.
In the end, he concludes that the story that Colin Myler set aside would have unquestionably run in his paper, and takes a few guesses as to why his former stead didn't publish it:
Even though Col Allan has labeled the allegations "outrageous" (a complaint that somehow never seems to generate much sympathy for a butt-kickin' tabloid editor), the fact that the story was generated from law enforcement sources would normally be a green light to get ink on paper. Tabloid editors have traditionally never been able to resist a punch at a rival and still raise a glass in the bar afterwards.

Others speculate that in a climate where print products are struggling, there is a quiet understanding between News and Post owners Mort Zuckerman and Rupert Murdoch not to trash each other's organizations. Better that dirty laundry stays hidden in the closet.

Whatever the reason, both newsrooms are in a state of embarrassment – for opposite reasons.
While giving some credit to our own suggested tabloid headline—COL GIRLS—and taking an odd sideswipe at The Observer as "a publication hardly known for its fun and wit," Dunn breaks out a few suggestions of his own:
COL ME IRRESPONSIBLE!
DON'T COL ME, I'LL CALL YOU!
MAY I COL YOU SWEETHEART?
MAY I SAY WHO'S COL-LING?

New York's Uneasy Tabloid Truce [The Guardian]
fkamer@observer.com | @weareyourfek