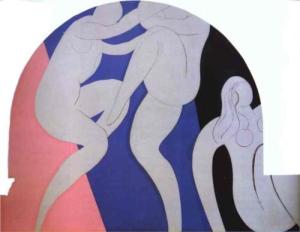 The Dance, Henri Matisse's 34-foot-wide triptych, has been installed at the Barnes Foundation's Philadelphia campus, which opens May 19, the Philadelphia Inquirer reports. Two decades ago, the triptych was the subject of much legal skirmishing when it was taken down from its original home at the Barnes Foundation in Merion, Penn.—the place for which it had been created on commission by Albert Barnes, who established the foundation in the 1920s. The mural on canvas traveled from Paris to Washington, D.C., and back to Pennsylvania to the Philadelphia Museum of Art for exhibitions and returned to Marion in 1995. Last year the triptych came down permanently. In light of the Barnes Foundation's embattled past, the re-emergence of the mural is something of a triumph.
The Barnes Foundation, which housed a world-renowned collection of Impressionist and early Modernist works at its home in Merion, a suburb of Philadelphia, was considered to be one of the greatest American cultural monuments of the first half of the 20th century. So, the decision by the Foundation's board, to move the collection to a more accessible location (in part to ameliorate its financial difficulties, it claimed), was controversial. Friends of the Barnes, an organization that opposed the move, filed several suits in an attempt to prevent it. The group's last legal effort to stop the move and reopen the case was quashed by a court in Oct., 2011, on the grounds that they had no legal standing to dispute the move. And last week the Friends were hit with a $25,000 fine, according to the court order of March 7, which is a portion of the counsel fees incurred by the Barnes Foundation in responding to the pleas to reopen the case.
The battle over the Barnes Foundation move is a dispute that's been going on for nearly a decade. And the Friends of the Barnes foundation formed in 2004, shortly after the Montgomery County Orphan's Court granted permission for the Board of Trustees of the Barnes Foundation to move the art collection to the city of Philadelphia. The activities of Friends, a civil group, involve educating the public about the Foundation's plans to move, and promoting "strong opposition" to the move.  On its website, Friends expresses its opinion as follows, "Removal of the art collection of Albert C. Barnes for installation in a replica is unnecessary, unjustifiable, and would destroy a unique site of national historic and cultural significance."
The Dance, as well as the rest of the Barnes Foundation collection, which has a new home in a $150 million museum on a landscaped, 4.5-acre site on Benjamin Franklin Parkway, officially opens to the public on May 19. Though tickets are already on sale to members, the rest of the hoi polloi can get tickets beginning Thursday.