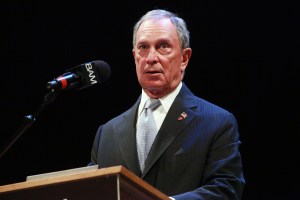 Mayor Michael Bloomberg continued his push on behalf of Governor Andrew Cuomo's pension reform plan by launching New York Leaders for Pension Reform, "a bipartisan coalition of mayors and county leaders from across the state" that will run television ads "advocating for sensible pension reform." Mayor Bloomberg announced the group's formation in a speech at the Long Island Association breakfast this morning where he warned that, without pension reform, this state will be forced to make drastic cuts that will return us to the "horror film" of the 1970's.
"This week, our coalition will be urging New Yorkers around the state to make their voices heard. In fact, we will begin airing television ads statewide calling attention to the issue," Mayor Bloomberg said.
New York Leaders for Pension Reform is made up of 14 county executives and legislative leaders and 12 mayors including; Albany Mayor Jerry Jennings, Rochester Mayor Thomas Richards, Syracuse Mayor Stephanie Miner, Erie County Executive Mark Poloncarz and Suffolk County Executive Steve Bellone. In his speech announcing the coalition, Mayor Bloomberg described how pension costs in New York City have outstripped budgets savings.
"In New York City, we started planning for the national economic downturn in 2007 – a year before the financial meltdown happened. We began cutting budgets and putting money aside for the future. … And that's helped us save $6 billion in the next fiscal year," Mayor Bloomberg said. "Over the past decade, our pension costs have gone up $6.5 billion – from $1.5 billion when I took office in 2002 to $8 billion for the coming fiscal year. That means pension costs have eaten up every single dollar of savings – and then some."
Mayor Bloomberg described rising pension costs as a "ticking time bomb" that would destroy the ability of cities' across the state to pay for the "safe streets, great schools, beautiful parks and cutting edge cultural opportunities" needed to attract "companies and investment."
"We now spend more on pensions than we do on the operating budget of the NYPD, the Fire Department and the Sanitation Department – combined," Mayor Bloomberg said. "Next year, every penny in personal income tax we collect will go to cover our pension bill."
Mayor Bloomberg also said pension costs prevent the city from spending on social programs.
"If you consider yourself a liberal or a progressive – the case for pension reform is just as strong. Because as pensions consume an ever larger portion of our annual budget, that leaves less and less for everything else. The $6.5 billion more that we are spending on pensions is money that we're not using to fund child care, housing for the homeless, libraries, summer jobs for teens, senior centers and parks and environmental protection."
Governor Cuomo's Tier VI pension reform proposal would raise the retirement age for public employees to 65, require some workers to contribute a greater portion of their salary to pensions, exclude overtime pay from average salary calculations and offer a 401(k)-like option to public employees. The pension reform proposal would not affect current employees who would still receive their existing benefits. Mayor Bloomberg said these changes would result in a pension that is still "generous by private sector standards."
"Future non-uniformed workers would be eligible to start receiving retirement benefits at age 65 – which is when almost all private sector workers are eligible to retire, and when most Americans become eligible to receive Social Security and Medicare benefits," Mayor Bloomberg said. "The Governor's reform plan would also exclude overtime from the calculation of a worker's final average salary to stop the abuse of overtime that has become so common. And it would ask some new workers to contribute slightly more to their own pensions. That's only fair, because right now, public workers contribute significantly less to their retirements than private sectors workers do."
Mayor Bloomberg also said the 401(k) option, which is voluntary, would be beneficial for many workers.
"This option would offer a much shorter vesting period than a traditional pension and employees could take their account with them when they leave government. That mobility would be attractive to many people – especially young people, who can expect to have five or ten jobs over the course of their careers," Mayor Bloomberg said. "SUNY professors already have this option – and a majority of them take it. Why shouldn't the rest of the workforce have that same option? Is it too good for them? Are they not as capable as professors of making a choice about their financial future? I don't believe that for a second."
Overall, Mayor Bloomberg said the pension reform plan would save taxpayers outside of the five boroughs "almost $80 billion" and "more than $30 billion in New York City alone." Without pension reform, Mayor Bloomberg said there would clearly be dire consequences.
"If pension costs are allowed to continue rising, there is no mystery about what will happen in the years ahead: There will be more tax increases and more spending cuts, cuts that will go into the bone – cuts to police, fire, sanitation, economic development and to the social services that the most vulnerable citizens rely on every day.
Mayor Bloomberg argued these cuts would return the state to the dark days of the 1970's.
"If cities and counties stop making those investments, it will be a recipe for disaster. And in New York City, we've already seen that movie. It was called the 1970s – and it was a horror film," Mayor Bloomberg said. "Thankfully, Mayor Ed Koch, Governor Hugh Carey and another Governor Cuomo steered the City through those dark days, by making the tough decisions required to get the City back on a sound financial footing. One of the decisions that those leaders wisely made was to reform pension benefits."
One of the most vocal opponents of the governor's pension reform proposal is State Comptroller Tom DiNapoli. Though he refused to utter the comptroller's name, Mayor Bloomberg criticized his logic in opposing the Tier VI plan.
"There are some elected officials – including a former Long Island Assembly member who is now our State Comptroller – who have actually argued that because the savings from the plan wouldn't be immediately realized, we shouldn't bother with reform. But that's a little like a doctor telling an overweight person not to bother going to the gym today, because they'll still be overweight tomorrow anyway. Big problems require long-term planning – and immediate action."
Opponents of pension reform also argue public workers should not be forced to pay for the consequences of the Wall Street collapse. Mayor Bloomberg said the numbers clearly show the pension costs increased independently of the financial crisis.
"Just look at the numbers. Our current pension bill is $8 billion. Before the financial sector meltdown had any impact whatsoever on our costs, the city's pension tab had risen from $1.5 billion in 2002 to $6.4 billion in 2009. And two-thirds of the increase from $6.4 billion to $8 billion is due to factors other than market returns," Mayor Bloomberg said.
Unions have been aggressively fighting the governor's pension reform push with protests and their own TV ad blitz. As of now, the Republican-controlled State Senate is including pension reform in their budget, but the Assembly is not. Mayor Bloomberg said voters need to contact the Legislature and push for pension reform to ensure it passes.
"I know that Majority Leader Dean Skelos understands the need for reform – and the budget pressures that local governments are facing. In all fairness, Speaker Silver has also indicated that he is open to pension reform," Mayor Bloomberg said. "But for reform to actually happen this year, the leaders and members of both houses – in both parties – need to hear from you in the next few days, because we're now down to crunch time."
Along with ads and statements from its member supporting pension reform, New York Leaders for Pension Reform has tools for readers to contact lawmakers and promote the proposal via social media.