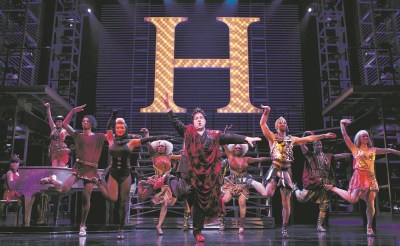 Religion goes down so much more easily when it's accompanied by guitar.
Innumerable youth-group leaders and Reform rabbis know this truth, and so does Jesus Christ Superstar, Andrew Lloyd Webber and Tim Rice's 1970 rock-opera passion play. But the nascent mega-musicalers' first Broadway outing—Superstar originated as a British concept album, and then debuted here in 1971 before returning to the West End the following year—offers no gentle acoustic strumming. (Neither, blissfully, does it indulge in the bland, feel-good soft rock of Stephen Schwartz's Godspell, playing this season in a nursery-school-on-speed revival.) No, Mr. Lloyd Webber's tuneful, hook-filled, guitar-driven score instead provides an account of Jesus Christ's final week that's accompanied by scorching riffs, soaring vocals, some funky bass lines, and more than a little rock-god sex appeal.
The show returned to Broadway last week in a slick, pulsing production directed by Des McAnuff; it's a fun, loud, thoroughly enjoyable revival that plays largely as rock concert. No period piece, it's a more or less modern staging that presents this chapter of Jesus's life less as a historical episode than as a timeless story relevant to today.
Mr. McAnuff, who developed this version of Superstar last summer for the Stratford Shakespeare Festival, where he's soon ending his tenure as artistic director, knows how to stage rock 'n' roll: His Broadway version of The Who's Tommy played for two years in the early 1990s and won him a Tony Award for best direction. At the Neil Simon Theatre, he and his scenic designer, Robert Brill, have built a two-level metal-bar frame around the stage, lined with stadium-style lights and Times Square-style news tickers (that introduce the scenes; "Judea—April 33," says the first one), an arena-rock venue for Jesus, Judas and Mary Magdalene and a crowd of angrily, jumpily choreographed Jews to sing their story.
If, like The Observer, your religious education was concerned with only part one of the Bible, not its Jesus-starring sequel, Jesus Christ Superstar is not the place to extend your theological expertise. The broad strokes are clear enough: The Jewish masses in Jerusalem like this Christ kid, the priests—here wearing the ritual Jewish uniform of enormous wigs of dreadlocks—are threatened by him, and the Romans—even more threatened—put him to a torturous death. But in this entirely sung-through spectacle, as Mr. Rice's lyrics wash over you, it's hard to pick up any nuances. Judas, whose name has for two millennia been synonymous with betrayal, seems less evil than you'd think, and also sort of in love with Jesus (who, in fairness, to some extent exists to be an object of affection, as do, here, his artfully displayed, very prominent pectoral muscles). Jesus frequently seems beatific, instead of charismatic. Mary Magdalene seems irrelevant.
Then again, Jesus Christ Superstar has always been a middling musical—with great songs. And this cast delivers. As Jesus, Paul Nolan sings with a sweet, clear tenor that makes you tempted to follow him, too. Jeremy Kushnier, playing Judas at the press preview The Observer attended, is fantastic, with an arresting, powerful voice. (Josh Young, who won praise for his Judas performance at Stratford, was out sick.) Chilina Kennedy delivers a moving, wistful "I Don't Know How to Love Him" as Mary Magdalene. The most memorable performance of the show comes from Tom Hewitt, in a purple velvet suit as the Roman governor Pontius Pilate, who gives this sometimes earnest show its only sustained bits of wit. Bruce Dow provides able comic relief in his burlesque King Herod number.
At the end, of course, our hero dies. But it's a great moment, as he's lifted slowly in that indelible pose, arms out and ankles crossed, and a giant cross descends from above while dozens of bright floodlights shine behind him. Downer or not, it's an arena-rock ending, complete with guitar riffs.
IT STARTS OUT WITH GOOD omens and high hopes, but soon it's clear that there will mostly be disappointment.
That's true of a marriage going bad, and that's certainly true of Regrets, a new play about four men waiting to get divorced, which opened last night at Manhattan Theatre Club's off-Broadway space in City Center.
Matt Charman's play is set in 1954 at a camp near Reno, Nev., where men rent small, primitive cabins to wait out the six weeks required to establish state residency for what was then considered a quickie divorce. Rachel Hauck's hyper-detailed set, offering interior views of three cabins plus the outdoor area where the four men in residence meet for meals, games and revelations, is visible on stage from the moment the audience enters, and under Carolyn Cantor's direction, the men begin entering before the house lights go down, without much notice or fuss.
The set alone gets you hooked, as does the premise, once it starts to become clear. It's a great place for drama, this small, self-contained community of emotionally raw men.
As the play begins, a new guy is arriving in Cabin No. 4. He's Caleb (Ansel Elgort, a senior at LaGuardia High), 18 years old, though he claims to be 21, and it's unclear what's brought him there. He's joining Ben (Brian Hutchison, restrained, pensive and wise), a former high school teacher and wounded war vet who stayed on even after he got his divorce; Alvin (an excellent Richard Topol), a nebbishy, heartbroken pet-shop owner from Queens; and Gerald (Lucas Caleb Rooney), an angry bully who still introduces himself with his military rank. They're joined by Mrs. Duke (Adiriane Lenox), the camp's no-nonsense owner; Chrissie (Alexis Bledel), a local girl who dreams of leaving this small town and prostitutes herself in hopes of earning money, or a man, to help her get out; and, eventually, a manipulative, straight-arrow House Un-American Activities Committee investigator (Curt Bouril) in a dark suit and fedora.
Ms. Cantor allows things to proceed with a languid pace, as befits a group of men waiting idly for the days to pass. It's pleasant, and interest enough, but it grows a bit tedious as it becomes clear that nothing much—even once the HUAC man arrives—is going to happen on stage. The only real drama in the play comes from these reticent men's eventual revelations, and there's not much to prompt them, other than the passage of time.
Even the I'm-a-married-communist plot feels insubstantial; earnest young Ben simply tells his new friends that he joined a union and "met people," rather than providing any persuasive case about whether or not those people had a persuasive ideology, and why he signed on to it.
The most communist thing in the play is its sweet conclusion: These four solitary men realize that the only way they'll get on with their lives is by coming together and supporting each other. It's a fine message, and about as subversive as a summer-camp sing-along.
editorial@observer.com