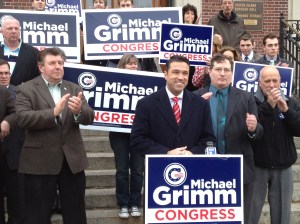 GOP Congressman Michael Grimm will be endorsed by the Independence Party later this morning, receiving a nice boost as he heads into a competitive reelection bid.
"Today, we are proud to announce that Congressman Michael Grimm will carry the Independence Party line and we offer him our full support in his re-election campaign," the party's chairman, Frank MacKay, said in a statement. "He has epitomized independent leadership often breaking party lines to do what is best for his constituents, the State of NY and this country."
Mr. Grimm's campaign had hinted at the endorsement last week, calling the then-mysterious endorsement a "game-changer," a phrasing the Staten Island congressman repeated in his acceptance of the party's backing today.
"The support of the Independence Party can be a game changer in any election, which is why I am truly grateful to have their endorsement for my re-election," he said. "I thank Frank MacKay and the Independence Party for their confidence in my ability to continue fighting for Staten Island and Brooklyn and the issues that matter most – job creation, toll relief, education and access to high-quality, affordable healthcare."
The Independence Party can often be decisive in close elections, in no small thanks to its independent-sounding name that some voters gravitate towards on the ballot.
There's only one Democratic opponent in the field, Mark Murphy, and it's unlikely any additional candidates will appear. Mr. Murphy, whose father was in Congress himself, recently received the official backing of the Staten Island Democratic Party.
The Cook Political Report currently rates the race as "Lean Republican."