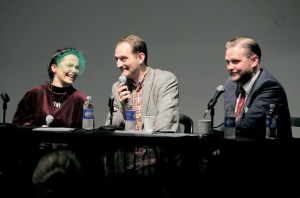 Ragnar Kjartansson and Björk probably have more in common than you know. They're both Icelandic, both come from a musical background and on Friday afternoon's standing-room-only Armory Show panel, they both looked particularly natty—with Björk in a burgundy velvet dress and green veil and Mr. Kjartansson in a sharp suit—as they agreed that they were both really into nature at this moment.
"I feel sometimes in the role of Kofi Annan," Björk said, of her recent Biophilia project, and her relationship to nature in general. "To try to make a bridge between the natural world to the watching people, wherever they are."
Mr. Kjartansson sees himself in a similar role. Without a very clear transition, he told a story of a recent trip to Canada on which he met a Native American who wanted to perform, for him, a "smoke ceremony." They were in a parking lot at the time and Mr. Kjartansson's host grabbed a newspaper, ignited it and set the burning paper down on the asphalt.
"Everyone say, 'What is this?'" Mr. Kjartansson said. "He say, 'Parking lot is nature. Everything is nature.'"
One last thing the two have in common is the fact that Mr. Kjartansson, through his bohemian parents, grew up with a folk singer who would later go on to become Björk's vocal coach.
"She lived in our basement, yeah," Mr. Kjartansson said dreamily. "And she was the 20th century, really." This woman's name could not be understood by Anglophone ears. "She would teach us songs when she came back from being on the road and she would give me a glass of sherry when I come home from school, from 11 years old."
Björk cared less for this woman. "She did not give me sherry," she said. The two met when Björk was 19 and singing in punk bands. "I don't think she liked me because I didn't live in the house. She criticizes my voice. She said, 'You speak like a mouse, hmm?'"
This led to questions from the audience, none of them very good, and Björk and Mr. Kjartansson began to tease the moderator to amuse themselves. They started referring to him as a "master yodeler" for some reason. "Are there no more questions?" the moderator asked the audience at the very end, desperate to divert attention. "Ah, no one to save me. O.K."