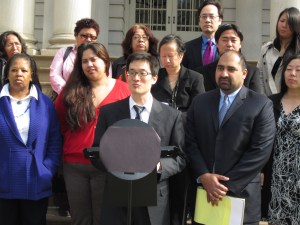 Forget state legislative and congressional redistricting this year, groups are now mobilizing to affect the redistricting of the New York City Council for the 2013 races.
Earlier today, the Asian American Community Coalition on Redistricting and Democracy (ACCORD), organized a rally to urge the City Council to appoint a diverse slate to their redistricting commission later this month.
"It's really about who are these people, do they understand the communities, do they understand the immigrants here," James Hong, a spokesman for the organization, told The Politicker. "We have no idea what this commission will look like."
And, given the fact the commission will affect the councilmanic representation of millions and millions of New Yorkers, Mr. Hong said this will be a big deal.
He said he heard some "not-so-great things" about the commission's diversity ten years ago, when the maps were last constructed, but said even if the current lines were fair back then, "They are now outdated, so they need to be redrawn, they need to be reshaped."
Mr. Hong cited the Asian community in the Sunset Park and Bensonhurst, which has exploded in growth in recent years but is currently divided between multiple Council seats, as an example of this.
However, according to ACCORD, the issue goes well beyond just the Asian community. The protest today contained a diverse array of groups including the Center for Law and Social Justice, MinKwon Center for Community Action, and La Fuente.