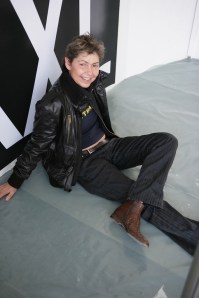 Isa Genzken, the sculptor and former wife of artist Gerhard Richter, will be the subject of a solo exhibition at the Museum of Modern Art next year. The press release for the show, which opens Nov. 17, 2013, calls Ms. Genzken "the most important and influential female sculptor of the past 30 years." She is shown widely in Europe, but her work is more rarely displayed in the U.S. This is her first stateside museum survey.
The show has more than 200 works, many of which will be on view in the U.S. for the first time. She is perhaps most famous in New York for her 2010 installation of Rose II, a 28-foot-tall sculpture of a rose mounted atop the New Museum's building on Bowery.
The survey was organized by Sabine Breitwieser, chief curator of MoMA's media and performance department, and Laura Hoptman, curator in the department of painting and sculpture. It will eventually travel to the Museum of Contemporary Art Chicago.