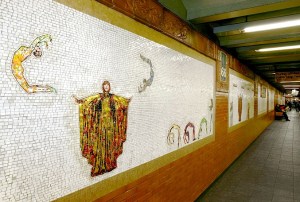 Getting off an A train on West 34th Street a few days back, Gallerist espied a mosaic of a green man juggling what appeared to be balls of fire. We wondered, who was the artist responsible for this peculiar display? After a great deal of searching for a name plate, we found our answer: none other than New York artist Eric Fischl (who has a show at Mary Boone right now, by the way).
Beginning Thursday, mass transportation riders with a similar quandary will be able simply to consult their phones, when the Metropolitan Transportation Authority releases an app that will provide a guide to its bounty of public artworks, ArtsBeat reports.
The app will include supplementary information about many of the works, like video tours and audio commentary. (You can download items before losing service below ground.)
There's some really remarkable art scattered throughout the city's vast transportation network–the delirious abstractions of Sol LeWitt in Times Square, hulking Dennis Oppenheim sculptures up in Riverdale and Jackie Chang over on Metropolitan/Lorimer, to name three favorites. Can't wait for that app.