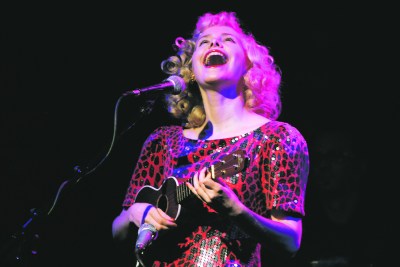 I probably haven't seen the worst cabaret act of all time, but after Nellie McKay at Feinstein's, I have certainly seen the dopiest. Part naive, lyric-driven song parade and part ecology lecture on the rape of the environment, this curiosity is called Silent Spring—It's Not Nice to Fool Mother Nature and it features the cute, sincere and woefully misguided actress-singer in the role of late environmentalist author Rachel Carson, who devoted her career to saving the planet from arrogant self-destruction. Ms. McKay is a gentle activist who loves dogs and flowers and everything green, attaching a few songs about nature to a rambling discourse about the dangers of pesticides, insecticides and other acrimonious environmental assaults. (It's not a show you want to see on Valentine's Day.) The musical interludes do little to alleviate the academic tedium generated by the disorganized patter wedged between them. One or two critics I respect have high regard for this girl, but all I can see is a vast need for improvement. Her heart may be in the right place, but frankly, this corny little act, which she has constructed from crêpe paper and good intentions, is something of a mess.
The prize-winning books and essays by Carson, like Silent Spring and The Sea Around Us, are talismans to savor with results that resound today. (Among other accomplishments, the author was responsible for the government's banning DDT from farm crops.) To her credit, Ms. McKay eschews preachiness for a more subtle, singable approach to life's lessons. After an offstage chorus of "Every Little Movement Has a Meaning All Its Own," she enters with her musicians, stomping among the tables to the tune of Jerome Kern and Ira Gershwin's "Make Way for Tomorrow" with teenage abandon, draped in graduation caps and gowns like alumni of Kay Kyser's Kollege of Musical Knowledge, replete with the idiocy of singer Ish Kabibble. The act eases its way down from there into a pool of ultimate silliness. Four tone-deaf musicians in straw hats shout comments like "Next stop  is Union Station!" while Ms. McKay dances with a biology lab microscope. Sometimes she answers the phone and in exasperation tries to deal with publishers, scientists and the annoying press longing for one of her pithy quotes. ("Hi, Rachel, this is William Shawn of the New Yorker calling!") In keeping with the Carson conservationist theme, she gazes through a pair of oversize binoculars like Harold Lloyd. Then she pecks away on a portable typewriter while the audience waits for something to happen. A disastrous portion of her act is a pathetic, misguided attempt to milk sophomoric humor out of a literary phenomenon, with songs chosen to illustrate what the world has done to pollute the ozone. Well-intentioned and fearless, she's a brave and bonnie little morsel attempting to inject something new and fresh into the calcified cabaret scene. Most of the time, her ideas backfire.
The full spectrum of Carson's passion and its impact on future generations is merely a wedge issue used to string together a series of disconnected tunes. Some of them are wonderful. There's a jazz instrumental by Charles Mingus, a touch of Irving Berlin's "What'll I Do" and a raspy socked-out bellow of Cole Porter's "Let's Do It." How any of this enhances Carson's work is anybody's guess. Ms. McKay's own compositions, like "Gonna Be a Bureaucrat," are senseless curios with no defining musical characteristics. A horror called "Food" endlessly repeats the line "We're gonna get some food in the house tonight—gonna get some food on the table!" while the four musicians feign falling asleep and snoring loudly. Something called "Old Love" plants lyrics in the air that fall with bewilderment on the baffled listeners: "I want an old love … don't want a new love … a crimson and cold love … just like you!" Say what? "All this needs," whispered a man at the next table, "is a banjo." And then there they were—two of them, to be exact. Not to mention a dreaded ukulele, which should never be seen or heard this side of a Harvard-Princeton game. The show is called Silent Spring, so why doesn't she sing the great Harold Arlen song of the same title, which says so much more about the darkness of the earth at noon than everything in this entire enterprise put together? The phone rings again. "Well," she says in Carson's voice, "I've been hearing a lot about these pesticides since the war!" You don't know whether to laugh or wince. She often talks to people named Dorothy and Roger without identifying them. Were they people in Carson's life? Does anybody care? A great portion of the time, she seems to be talking to herself, and when she gives an alarming report on the terminal lumps in her breast, it would be better if she didn't talk at all. On the way out, an irate woman said, "You have to be on crystal meth to get through something this bad."
Songs thrown together in a Cuisinart, splashing all over the stage, convey the beauty of natural wonder before it was abated by politicians, wrecking crews and petroleum tanks: "Early Autumn," "Midnight Sun," etc. They are wonderful selections, but her Little Lulu voice from the Stacey Kent-Maude Maggart School of Vocal Diminishment serves them badly. On Dave Frishberg's soft anthem "Listen Here," she sings the wrong notes. After "It's So Peaceful in the Country," I have finally heard Alec Wilder's masterpiece performed like Spike Jones and the City Slickers. And what, I ask humbly, without rancor, is the meaning of an acceptance speech for the Albert Schweitzer Award for the Advancement of Animal Welfare, followed by "The Gentleman Is a Dope"? The whole thing is so confused you don't know what's going on half the time. Don't even ask how "Ten Cents a Dance" fits in. She promises the audience to give out free condoms at the end of the show that are "tender" and "biodegradable." I heard one shriek and a few gasps, but no laughs. Sophomoric patter only dilutes the impact of the points she aims to get across in the song lyrics. Faulty intonation, an errant sense of rhythm and occasionally singing out of tune don't help. Everything seems to exist for the sake of a gimmick. It remains to be proved if she can anchor a quirky style to so much corn and make it work over a prolonged period of time.
As offbeat as she is, I can only wonder about the future of Nellie McKay. I think she will get better. She is smart. She is also sloppy and self-indulgent. The death of the Oak Room leaves the Café Carlyle and Feinstein's at Loew's Regency as the only two major hotel rooms in town. You now have to earn the right to play both. Ms. McKay isn't there yet. The crowds punishing the parquet and the Parkay at prices equivalent to a Park Avenue mortgage payment demand more than just another precocious girl who stands center stage in a swanky club singing Hoagy Carmichael's charming "Lazy Bones," followed by a discussion of breast cancer. Some of the songs are first-rate, but she sings them all wrong.
rreed@observer.com