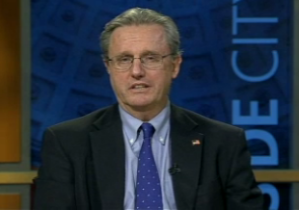 Joe Carvin is taking an interesting path in his quest to unseat Democratic Senator Kirsten Gillibrand this year.
Last night, the recently announced candidate, who's also a wealthy hedge-fund manager and town supervisor for Rye up in Westchester County, told Capital Tonight's Liz Benjamin he's "absolutely" pro-choice and Congressman Paul Ryan is "my hero."
When asked if his pro-choice stance could be a problem in a conservative Republican primary, Mr. Carvin replied, "No, not at all. I think what we have to focus on is what's fundamental. I think unfortunately the social issues are more of a distraction."
Mr. Carvin moved on to doubt the significance of social issues in a candidate's biography, saying he doesn't know what a pro-life candidate "really means."
"We have settled law in Roe v. Wade," he explained. "I can't imagine that somebody thinks they're going to be elected to the Senate and overturn Roe v. Wade."
Ms. Benjamin tried to connect the issue to something tangible and see how Mr. Carvin would vote on it. When asked whether he supports the controversial Blunt Amendment, which would allow an opt-out for contraception in health care coverage, Mr. Carvin basically declined to comment.
"I don't have a view on the Blunt Amendment," he responded. "What I want to talk about is the fiscal crisis."
The solution to the fiscal situation, he said, was "fundamental entitlement reform." Even though Democrats in New York have successfully hammered Republicans for supporting Wisconsin Congressman Paul Ryan's Medicaid-cutting economic plan, Mr. Carvin embraced it entirely.
"Paul is my hero," he said. "I'm running because Paul Ryan needs help. Paul Ryan is my hero."
Two other GOP candidates are currently campaigning in for the June 26th primary: Nassau County Comptroller George Maragos and attorney Wendy Long.